Could it be the new name of Windows as a Service? Microsoft has trademarked the name Windows 365. So far, it was selling Windows as a standalone package with a one time fee that was too high for many. With Windows 10, things are all set to change. It is already indicated by Microsoft that Windows 10 will be provided as a Service rather than being just a one time install. It will be kept on upgrading and updating as and when required.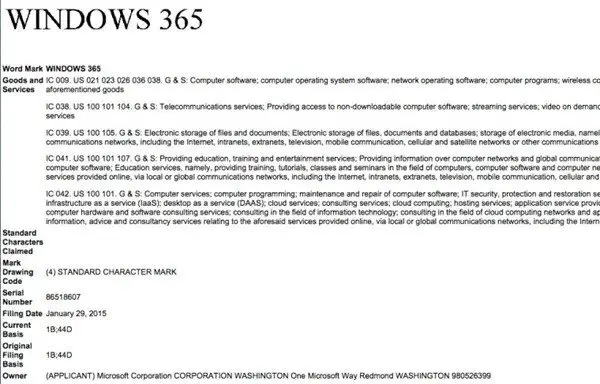 Windows 365
For long, Microsoft has provided Microsoft Office as a service under the name of Office 365. This Office as a Service has been received well by businesses and home as well as students. It includes all the latest updates for all the applications – Word, Excel, PowerPoint, OneNote etc – so that when people use these applications, they are using the latest upgraded versions. People using Office 365 need not install updates and feature upgrades manually.
Looking at this, it feels that Microsoft is going to rename its Operating System as a Service to Windows 365. Already, it is clear that Windows 10 will be a one time purchase with Microsoft offering lifetime upgrades. It has made it clear the users can migrate from Windows 7 and Windows 8.1 to Windows 10 for free and then will continue receiving software updates and feature upgrades as long as the device they licensed is working. The license can be shifted to another device when the original device fails or is broken and they continue getting upgrades as usual. There has not been any official word on pricing even as people know that going ahead, they will be paying a subscription fee annually.
Microsoft had earlier, explained to the businesses that how windows as a service will be delivered to them. For enterprises that provide real time services, only critical updates will be pushed so that the downtime required for applying these updates stay minimum. The other businesses will get updates after Windows Insiders have already tested them for months, meaning the updates will be stable.
Check out Microsoft explains Windows as a Service to Business to know more.