Microsoft has simplified the printing experience in workplaces by announcing a new cloud-based print solution – Microsoft Universal Print. Microsoft wants to help enterprise customers reduce time when it comes to printing documents in offices. For this to work, Microsoft has integrated the core print functionality into its Microsoft 365 Cloud.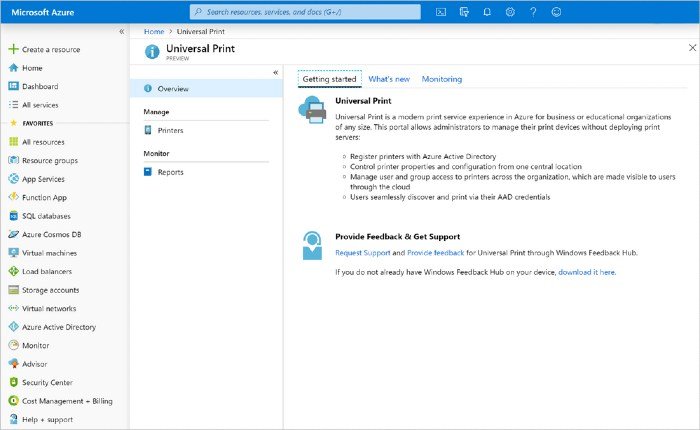 How does this achieve faster, more secure printing?
Microsoft Universal Print cloud-based solution eliminates the need for deploying print servers. Plus, companies no longer need to install printer drivers on every single device. Customers can benefit from some of the key cloud-based printing functionalities such as security groups for the printer and location-based printer discovery.
Features of Microsoft Universal Print
Microsoft Universal Print portal allows organizations to register printers with Azure Active Directory.
Organizations can control printer properties and configuration from one central location.
Manage user and group access to printers and make them visible to users via the cloud.
Discover and print via Azure Active Directory (AAD) credentials.
Businesses can deploy and register printers with Microsoft Universal Print service, further eliminating the need for a complex hybrid print setup. Printers can also be preconfigured using the portal. Users can discover printers from Windows devices associated with Azure Active Directory and print documents as they would normally print.
Meanwhile, Microsoft has also partnered with Canon to offer printers with native support for Microsoft Universal Print service. Commenting on this partnership, Canon had this to say:
"The way people work is changing as cloud computing and technology continue to expand and evolve, driving digital transformation. Canon Inc.'s image RUNNER ADVANCE and Office Printers provide the flexibility and scalability to address diverse workplace needs."

"In partnership with Microsoft, we are committed to supporting Microsoft Universal Print and support our customers in their journey to the digital workplace."
As for printers without native Microsoft Universal Print support, Microsoft has recommended a Universal Print proxy application, which connects existing printers to Microsoft Universal Print service.