Microsoft has launched Halo 4, its biggest sci-fi blockbuster of the season, marking the return of the Master Chief, worldwide. With increased pace and action, greater epic encounters, new interactive story elements, and more combat freedom than ever before, "Halo 4" delivers the series' most dynamic and explosive campaign yet — whether it is a solo fight or a cooperative assault on Xbox LIVE. Published by Microsoft Studios, "Halo 4" is a compelling fresh take on the fight Halo 4 Quick Facts.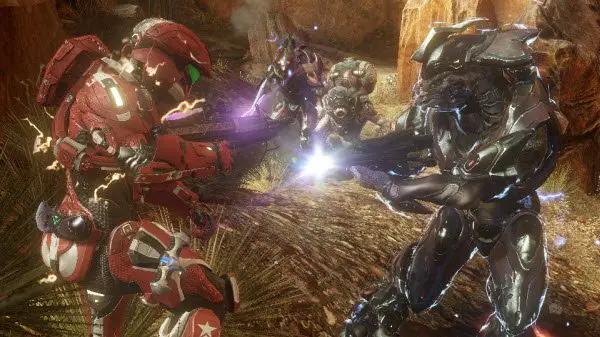 Halo 4's robust multiplayer offering through War Games, will take place on the Spartan training ship Infinity and will tie into the game's story. Halo 4 will come shipped with Forge toolset, the in-game map builder further enhanced from Halo 3. Allowing players to design their own multiplayer maps, the Forge toolset with three unique environments has the ability to alter any current and future War Games map.
Halo 4 also introduces the game's downloadable 'Spartan Ops' mode. In this mode, as many as four gamers at a time can play through episodes around the Spartan Soldiers on board UNSC Infinity and their fight with the Prometheans. These episodes, divided into chapters, will be available for free download every week.
One thing that hasn't changed is the hardware the game runs on, the Xbox 360. That was one of the challenges for the engineering team at 343 Industries (the new internal studio at Microsoft, helming the franchise) – how to do more, not with less, but with the same hardware that's been around since 2005.
Speaking at the launch of Halo 4, Mr. Anshu Mor, Business Group Lead – Interactive Entertainment Business, Microsoft India said,
We are delighted to launch the next edition of Halo – a game that has shaped entertainment history and defined a generation of gamers. There has been much anticipation around the return of Master Chief and gamers will revel in the storyline and gameplay in Halo 4. Let the Halo fever begin!
The "Halo" franchise of games is exclusive to the Xbox 360 video game and entertainment system and the Xbox LIVE online entertainment network. To date, more than 46 million copies of "Halo" games have been sold worldwide, driving more than five billion hours of gameplay by people connected to Xbox LIVE.
It is priced at $59.99 or ₹ 3,299/- for the Standard edition and $99.99 or ₹ 4,599/- for the Limited edition – but you can get good deals at Amazon. It will available at all store 6th November, 2012 onwards.