Microsoft has announced Microsoft Search. Microsoft Search is a unified search platform that will allow the enterprise customers to search for anything across their organization from anywhere. This includes Office Apps, Bing.com as well as Windows. It is powered by Microsoft Graph and will enable the users to get to the queries they throw as fast as possible and that too without leaving their current work. This is not a separate app but is a service integrated directly and deeply inside the search bars inside apps and pages across the ecosystem.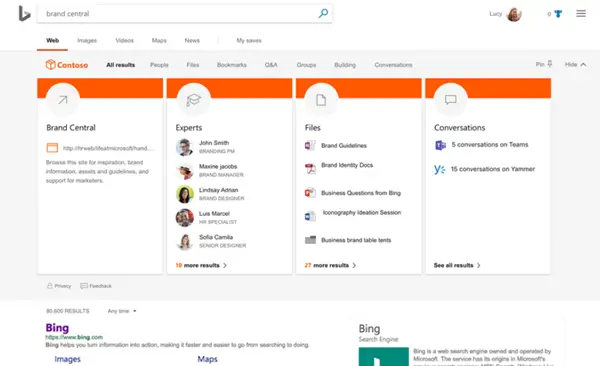 Microsoft Search announced
Powered by AI and the MS Graph, this search experience expands not only to Office Apps, Bing.com, Windows 10 but also to third-party services integrated properly with Office 365. They are calling it AI insights engine.
And due to the integration with Microsoft Graph, it will also learn your searching habits and will offer you personalized results.
Of these all search experiences announcements, they announced the following,
The search will work across the organization on Office 365, Office Desktop apps, Windows 10, SharePoint and more.
Smart searching capabilities powered by AI will fetch you personalized results based on your workflows and this will distinguish it from Smart Suggestions.
The Search Bar will be the guiding factor for applications about what the user is currently working on.
The Search Results will include results from different parts of your organization including some third party software.
The search experience will spread across all the services that you use including Bing (when only signed in with Office 365) and others.
The administration will be unified across all the services and the employees and will be managed even more easily.
This new Microsoft Search experience is rolling out to Bing.com and Office 365, app start pages, and the SharePoint mobile app right now and will be available to other services inside the Microsoft ecosystem like Windows 10, Office for Desktop and Microsoft Edge, etc. in the near future.
You can read the announcement here.