A recent update to the Office 365 people profile experience now brings consolidated profile and activity pages to make it simpler for the users to discover relevant content, find industry experts and connect with their colleagues.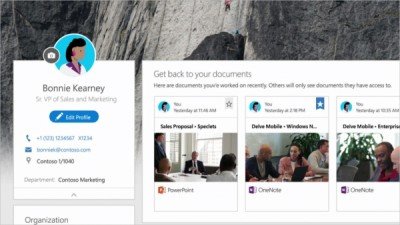 Office 365 now brings consolidated profile and activity pages
The revamped profile page is aimed at becoming a destination where in you can learn about your colleagues, their contact information, a profile picture and the summary of their experience and expertise, additionally one might also check out what their colleagues are up to recently. The profile pic is not just a static page and it does come with some connect buttons, for instance one could simply tap on the Skype icon to chat with their friends without actually leaving the Office 365. You could also connect with your colleague with email and other options.
That being said as a user you will be able to view only the content you already have permission to see and this holds good even for your colleagues who want to view your profile. The profile pages seem to be highly responsive and they will fit into any of the devices.
The Delve profile will let you give it a personal touch by uploading a profile photo and choose a cover picture as well. Updated profiles are expected to help people find more about you and keep a tab on you if they need any professional services or need a subject matter expert in your domain. Users would also be able to see what their colleagues are working on and this is expected to bring about a new ecosystem of connected professionals.
The new Office 365 experience is expected to be rolled out over the upcoming weeks and will be available for all the eligible Office 365 customers by the second quarter of 2016.