After many of its recent updates, Power BI in Office 365 Preview was next in Microsoft's headlines yesterday. Power BI is a set of tools providing self-service BI solutions to everyday business users through Excel. It includes mapping, data query, modeling, and interactive charting usually found on top ribbon of Excel.
Microsoft yesterday announced some new and noteworthy  features to the Power BI for Office 365 preview and Power BI in Excel. Power BI for Office 365 preview has received an updated and improved data search with natural language querying and Power BI in Excel received an advanced 3D data mapping visualizations.
Bing's expertise has been in a continuous sway with latest updates in big data, mapping, and machine learning. It has rather become one of the most intelligent services online with these Power BI for Office 365 preview updates.
Updates in Power BI for office 365
Interactive visual search results with Q&A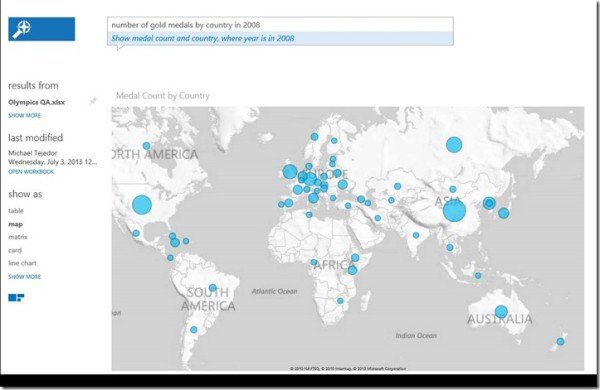 The first upgraded feature of Power BI is Q&A which allows users to ask questions and get visual results with interactive charts and graphs. You can search for any of your queries and you will get stunning visual results in an interactive chart or graphs. This is one of the most interesting add-ins by Microsoft. This feature interprets the questions asked by users and generates instantaneous results with interactive maps/charts.
Power Map Review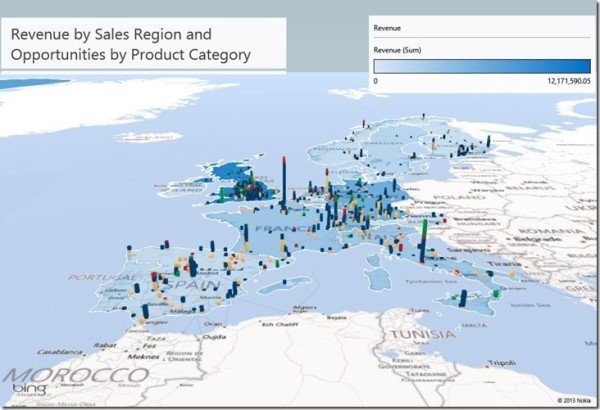 The updated add-in for Excel, Power Map Preview, helps people plotting geographic and temporal data visually on Bing Maps with a 3D representation. For example, when you search for a company's revenue by sales region, Bing brings up a 3D representation with detailed revenue by sales region, all on an interactive map. Power Map previously termed as GeoFlow, received some significant updates which include immediate geo-coding of geospatial elements and region based visualization.
Power Query
Microsoft has also updated Power Query add-in to Excel which helps users to discover, combine and transform their search data. The Company has expanded the number of available datasets to improve the online search experience. The expanded datasets include Wikipedia, Windows Azure Marketplace and data.gov datasets. Furthermore, Power Query now is more flexible with different merge options and a better integration. Consumers can now share their queries with others in their company.
Sign up for the Power BI for Office 365 preview at powerbi.com to learn more about these technologies and download the new Excel 2013 add-ins powered by Bing.