Microsoft Visio, the diagramming and vector graphics application, is finally coming to web browsers (Visio Online Preview) as well as the iPad (Visio Viewer for iPad), enabling users to share or access diagrams from remote locations, gain operational insights and explore real-world diagrams easily.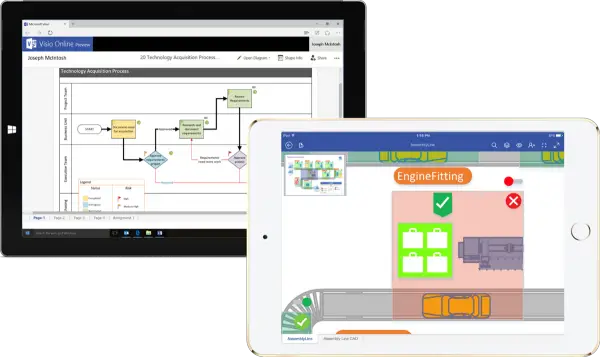 Visio is one of the most popular process mapping tools out there and is used widely by major corporations to develop blueprints for their future projects. Visio Online Preview and Visio Viewer for iPad work hand in hand with OneDrive for Business and SharePoint Online to allow for easy sharing of files—allowing your colleagues to view and interact with diagrams across devices.
Visio Online Preview
The expertise and complexity of Visio Desktop comes to the new and improved Visio Online Preview for the web. Visio Online Preview amplifies the use of visual communication by helping teams share real-time information from diagrams with just a browser—turning data-linked diagrams into a community dashboard that more employees can access. You can use hyperlinks to bring in additional documentation, such as policy guidance created in Word. Or, moving from the network dashboard to the rack dashboard for a specific server performance.
Visio Viewer for iPad
Built for iPad's Retina display, Visio Viewer for iPad gets viewing of complex projects mobile, with accessibility on the go. With the newly developed experience;
Plant managers can zoom into production line issues from remote facilities
Financial advisors can examine detailed workflows of a loan approval process while visiting clients around the world
Retail district managers can conduct store management trainings with associates using detailed CAD-based store layouts.
Visio Viewer is coming to the iPhone in the coming months. Meanwhile, you can download it on iPad. If you need more details, visit office.com.