We have been kept busy for long by Microsoft Build conference announcements. The latest announcement is just an addition to this. Speaking at the San Francisco developers' event, Visual Studio Online product manager Ed Blankenship revealed details based on software development.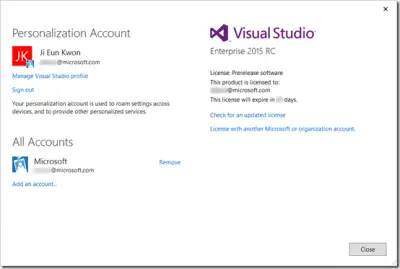 Microsoft Visual Studio Professional 2015 RC
The software giant announced a release of Visual Studio 2015, which came out in a preview last November. It is now available for download but a final release is expected this summer.
Visual Studio is a comprehensive collection of developer tools and services to help users create apps for the Microsoft platform and beyond. Microsoft has been releasing technical previews of Visual Studio 2015 but the first release candidate announcement was only made during this build conference.
Earlier, the company released the first community technology preview (CTP) of its Visual Studio product, Visual Studio 2015, in June 2014. Thereafter, it regularly released subsequent CTPs at a near-monthly basis.
CTP 5 which happens to be the most recent release became available in late January, two months after the release of a preview version in November. The latest announcement assumes importance as it is indicative of the code now present in the steady state and likely to be released for sale, soon.
"Visual Studio Professional 2015 RC is a comprehensive collection of software, tools and services for individuals and teams to achieve more while building professional applications", writes Microsoft on the Download Center Page.
For Microsoft, Visual Studio, besides being a source of revenue, is the company's play into the developer platforms market.