Most are aware that Microsoft is soon going to end supports for Windows XP and Office 2003. There won't be any support options, bug fixes or security updates for these Microsoft products after April 8, 2014. If you have not yet started the migration to a modern operating system, you might want to take a call on it. 'The end of life' is the phrase used by mark the end of automatic fixes, updates, or online technical assistance for the Windows XP System.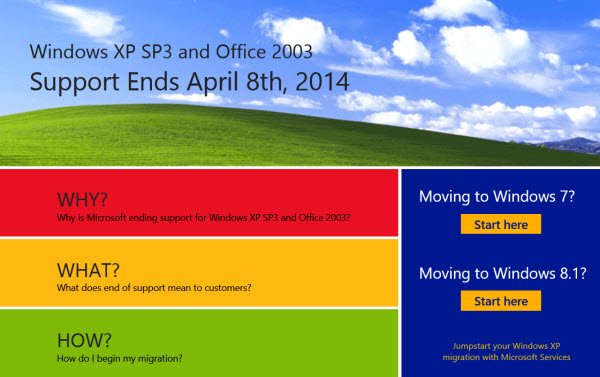 Migrate from Windows XP
To help users migrate from Windows XP to a modern operating system like Windows 8 or Windows 7, Microsoft has launched a new portal that will help users take the required steps and offer information about Windows XP End of Support.
According to Microsoft, there won't be any free or paid assistance for these products after End-of-support and running Windows XP SP3 and Office 2003 may expose your company to potential risks. The company suggests it's time to take action, as an unsupported and unpatched environment, is vulnerable to various security risks & the chances of malware entering their systems could increase by two-thirds putting corporate networks in a great danger.
If the support ends, you won't be receiving any security updates as well as definition updates for Microsoft Security Essentials running on Windows XP..
Every product is released with a lifecycle and Microsoft introduced its Support Lifecycle policy for Microsoft products in 2002. According to this policy Microsoft Products receive a minimum of 10 years of support. The Support Lifecycle policy usually offers ten years of support for business and developer products and five years of Mainstream Support for consumer and multimedia products.
The software giant says, "To ensure you remain on supported versions of Windows and Office, you should begin your planning and application testing immediately to ensure you deploy before the end of support".
While many people have upgraded their computer systems to Windows 7 or 8.1, there are still many that have yet to make the switch or face potential security and compatibility issues.
The website also talks of potential benefits of upgrading:
Enterprise Customers: Microsoft offers large organizations in-depth technical resources, tools, and expert guidance to ease the deployment and management of Windows, Office and Internet Explorer products and technologies. To learn more about migration and deployment programs, please contact your Microsoft sales representative or Certified Microsoft Partner. Learn how to pilot and deploy a modern desktop yourself, download the free Microsoft Deployment Toolkit and begin your deployment today.
Small to Medium Business: There are many options for small and medium businesses considering moving to a modern PC with the latest productivity and collaboration tools. Small to mid-size organizations should locate a Microsoft Certified Partner to understand the best options to meet their business needs. If your current PC meets the system requirements for Windows 7 or Windows 8.1, you can buy Windows 7 Professional or Windows 8.1 Pro from a local retailer or Microsoft Certified Partner. If your PC does not meet system requirements, consider purchasing a new business PC with Windows 8.1 Pro.
Corporates should now use proper migration plans and upgrade their soon-to-be obsolete operating systems and applications to up-to-date Microsoft products like Windows 7, Windows 8 and Office 2007, Office 2010 as soon as possible.
If you need more help on this issue, you can visit Microsoft at the following links: Home Users | Enterprise customers.