In its renewed bid to make Windows 10 the most attractive development platform ever, Microsoft at BUILD, announced several new capabilities coming to Windows 10. The company anticipates Windows massive adoption by customers across the world by making the platform free for the first year, an easy way for businesses to upgrade quickly, and with great new devices.
Windows 10 Platform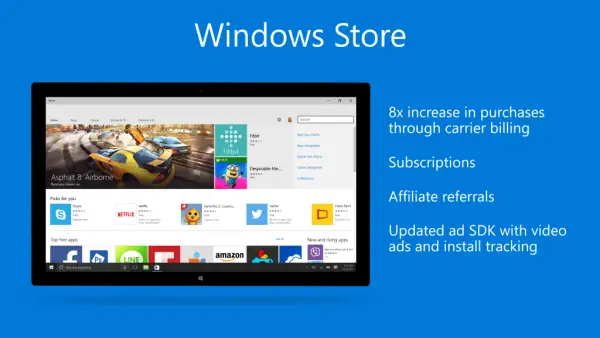 The company foresees Windows 10 installed and running on one billion devices within two to three years of Windows 10's availability . If the feat is achieved, the platform could be the first version, in any ecosystem, to be available on one billion devices. All the efforts are indeed in a direction to make Windows 10 a truly universal platform.
Microsoft announced four new SDKs, enabling developers to start with an existing code base, integrate with the Universal Windows Platform capabilities, and then distribute their new application through the Windows Store to the one billion Windows 10 devices. The code bases enabled by these SDKs are:
Web sites
.NET and Win32
Android Java/C++
iOS Objective C
Besides, the Store now aims to have support for a range of global payment methods on all Windows devices – supporting up to 90 carriers, to help people around the world who don't have credit cards, but do have phone to make transactions. The changes introduced will require apps to be reworked but Microsoft claims development time will be shortened considerably and porting itself will take few code modifications.