Those who are in love with Microsoft's Surface Laptops, you can now own one with Windows 10 S operating system. As Microsoft's team states, this will be a good choice for the students. The best part of Windows 10 S Surface laptop is, it comes with performance and security of Windows 10 S. Windows 10 S is the new operating system from Microsoft and it works exclusively with apps from the Windows Store.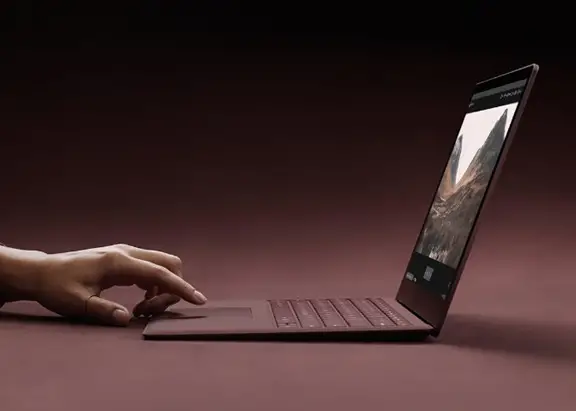 Windows 10 S Surface laptop
To begin with, this Surface laptop runs on Windows 10 S. It's the latest variant of Windows 10 OS, created with better security and performance. In Windows 10 S Surface Laptop, Microsoft Edge is the default browser. Since Edge is more secure than Chrome or Firefox, your browsing experience will be more secure. Just like Windows 10 OS, Windows 10 S Surface laptop too will have Windows Defender pre-installed on the machine. Hence, you will have all ongoing security features of Windows 10 on your Surface laptop.
Microsoft states that Windows 10 S Surface laptop is made with keeping today's students and teachers in mind. It is the laptop made to empower people of today to bring their ideas to life and create a better future. Microsoft's team highlights the best features of Windows 10 S Surface laptop;
"The result is the most personal and balanced Surface we've ever made. This Surface perfectly blends fabric and function, power and portability, beauty and performance. It does all of this without compromising on the things we know are important to higher education students: battery life, display quality, storage, and portability."
Microsoft has created several Surface laptops variants. The Surface family includes Surface Pro, Surface Book, Surface Studio and Surface Dial. All these Surface laptops come with unique features that enhance productivity, creativity and even security. Microsoft Windows 10 S Surface laptop comes with all the innovations that the rest of the Surface family has. It is thinner, quieter, more powerful, and more personal.
Some of its features are as follows:
Weight: 76 lbs.
Thickness: 47 mm
Opens with just one finger
Display: 5" PixelSense™ Display, made with edge-to-edge Corning® Gorilla® Glass 3 and thinnest LCD touch screen
CPU: 7th Generation Intel® Core™ processor
Battery life: Windows 10 S Surface laptop comes with improved battery life of up to 14.5 hours.
Keyboard: Alcantara®-covered keyboard and soft palm rest give you a new level of typing comfort during those long days
https://youtu.be/74kPEJWpCD4
These are only a few features of Windows 10 S Surface laptop. This new Surface laptop comes is available in 4 colors; namely, Platinum, Graphite Gold, Cobalt Blue, and Burgundy. Currently, the laptop is available for $999 which can be pre-ordered now.
To know more about Windows 10 S Surface laptop, read the Windows Blogs.