Microsoft is known for listening to what users have to say about their apps and updating them for a bettered experience altogether. Following the same legacy, the company has started rolling out document headings and navigation to Microsoft Word Mobile.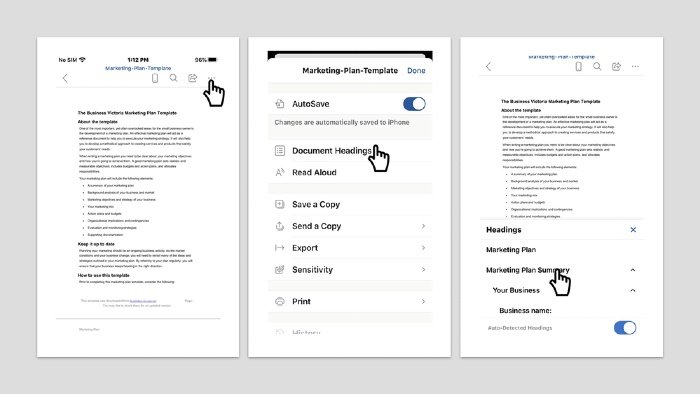 Microsoft Word Mobile app updated
It means users of MS Word Mobile will navigate through a Word document based on the document headings. Although Word has had support for document headings for a while, the mobile version didn't have it until now. The controls for headings-based navigation is made available through the Headings Pane.
"We have heard your feedback on not being able to navigate to the relevant sections of your word documents on the Mobile Apps. We have started rolling out this, much-awaited feature in Word Mobile. You can now open your Headings Pane and navigate to the relevant sections of your documents with a few taps," Microsoft said.
The company made this announcement through a routine blog post on the Microsoft Tech Community site. There, several screenshots from the iOS version of Microsoft Word are also provided. It is clear that the new feature, too, has been well-optimized for mobile platforms.
Although the Microsoft team hasn't yet included screenshots from Android, we are sure you can find the feature on Word for Android as well. More importantly, though, Microsoft has gone a little farther than merely copying the heading navigation option that we are familiar with in Microsoft Word's desktop and online versions.
For instance, the team says that Word for Mobile will now use an intelligent algorithm to detect headings — even when you have not marked them as headings on the document. Of course, this feature will need some more time and sufficient customer feedback to be on the best track.
On the flip side, if Word for Mobile has trouble detecting the headings, users can insert the headings by navigating to Home > Styles. The process works as seamlessly as it would on desktop devices. Once this is done, users can find the existing and newly added headings through the Headings Pane.
The company has added that it is rolling out the feature gradually for both Android and iOS. Therefore, you may have to wait for a few days until you see the new update arrive on your devices. It would be best if you were running "on builds greater than 2.43 on iOS, and greater than 13530.10000 on Android" to use this feature.