Microsoft is offering discounts on many of its subscription-based services, as it did last year. Microsoft 'Work and Play' bundle as the offer is known will be available to customers for $149 only.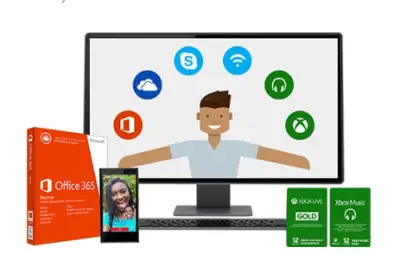 Microsoft Work and Play Bundle
The bundle combines 12-month subscriptions to Office 365 Home, Xbox Live Gold, Xbox Music Pass and WiFi + Skype Unlimited World for $149. Earlier too, Microsoft was giving away the bundled package of services at affordable prices but for a brief time period only. the offer was limited and expired soon thereafter. However, it was very well received.
This time the software giant is advertising the bundle as a saving of $250 over the price users pay for owning each of the subscriptions, if purchased as separate units.
Beginning April 6, customers in the U.S. will be able to buy the bundle for $149 at Microsoft Store.com. Last November, the same bundle cost $199. This time rather than making the Work & Play bundle available through Microsoft's stores, the company is making it available online.
Xbox Live Gold: Gives the most advanced multiplayer, free games, exclusive discounts on games in the Xbox Store, and more.
Office 365 Home: Offers Office applications like Word, Excel, PowerPoint and more with 1 TB OneDrive online storage so you can manage and share your photos, videos, and documents.
WiFi and Skype Unlimited World: Extends WiFi access at over 2 million hotspots worldwide

–

connect to the internet from virtually any device. You also get unlimited minutes to call friends and family around the globe from your laptop, tablet, phone, or TV.
Xbox Music Pass: Guarantees unlimited access to millions of songs. Stream ad-free or download as much as you like. Listen on your PC, tablet, phone, Xbox, and on the web.
There's a three bundle per person limit on the new promotion. If a user is already subscribed to one of the above services then, their current subscription will get an extension of an additional 12 months.