In spite of the risks and possible dangers involved, Microsoft has always gladly accepted the challenges that have come its way. Microsoft YouthSpark, a company wide initiative designed to create opportunities for hundreds of millions of youth around the world is just another example of that.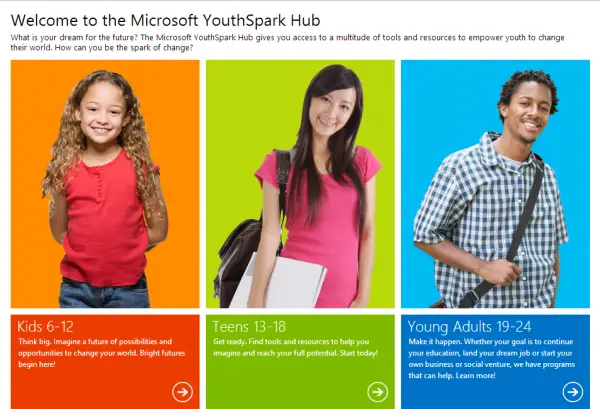 The new initiative is meant to help teenagers, kids and adults gain better opportunities in education and entrepreneurship through partnerships with governments, nonprofits and businesses organizations. The program is meant to empower youth through the use of latest technologies and help them realize their full potential by giving access to a multitude of tools and resources.
Microsoft YouthSpark Kids 6-12
The program for kids help educators and school leaders discover new ways to integrate latest technologies into their teaching practice for boosting potential of their students in every possible way. It makes the kids learn skills that they can use in school, at work and in life.
Moreover, its Office 365 for education helps students take advantage of the Microsoft's Cloud service thereby allowing them create documents online and view and edit them whenever required.
Microsoft YouthSpark Teens 13-18
Teens are at a bit of a disadvantage with the 'opportunity gap'. Microsoft understands this. The company believes youth today doesn't have the resources they need to succeed or if they have, they lack the jobs or training essential to make a jump from schools into the working world. Via this program Microsoft tries to change the notion. The company promises to close the opportunity gap that exists so wide now. The program encourages youth to do great things and empower them to change their world by providing multitude of tools and resources.
Microsoft YouthSpark Young Adults 19-24
Many believe youth represents the future of a country, and so does Microsoft. The company encourages youth to be the spark of change. Its Microsoft DreamSpark project lets you avail of some of the industry's most powerful design and development tools and get training from Microsoft for building your dream project.
If you are interested in being a part of Microsoft YouthSpark Hub or getting involved, visit here.