Kids can now start learning about technology at the age of 8. After bringing various Youth oriented programs, Microsoft Retail Stores are now offering special free classes for kids of ages 8-13 yrs. These Summer Camp classes will be conducted at Microsoft Stores in the US and will last from 2 June -29 Aug 2014.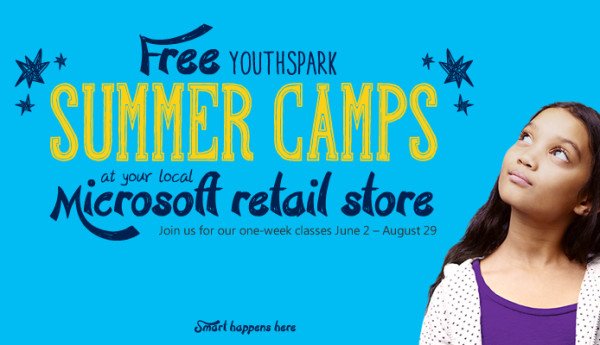 YouthSpark Summer Camps
The YouthSpark Summer Camps are categorized into 3 groups for different age groups which include a group of Jr. Designers which is for ages 8-10 yrs.' and two group of Designers which is recommended for ages 11-13 and 13+ students. The Summer Camp offers a week long classes which lasts 2 hours a day.
The free Summer Camp classes at Microsoft Stores will include:
Smart Game Coding- learn how to code, program, and play in your own gaming world.
Smart Game Designing- Learn how to build, publish, and bring mobile games to life
Smart Movie Making- Learn how to produce, direct, design and animate your own movies with your Windows Phone and Surface Pro.
Smart Photo Taking- Learn new tricks for capturing, editing and sharing great photos from your phone.
YouthSpark CodeIT- Learn the language of code and create your own apps.
DigiGirlz Smart Game Designing- This is for high school girls interested in technology.
Microsoft also brings a Summer Camp classes for parents where they can learn about online security and smart computing. The classes for parents will be held at the same with their child's sessions.
Choose the suitable camp according to your child's interest and enroll them today in FREE YouthSPark Summer Camp designed by Microsoft.