Microsoft employees did a solid job back in 2015 after they raised a whopping $125 million for non-profit organizations. The program is called the Employee Giving Program. What's interesting about this, is the fact that Microsoft employees increased the program's donation by $8 million when compared to 2014. This is good news for the future as it shows that the lesser folks at Microsoft are up to the task of helping the less fortunate.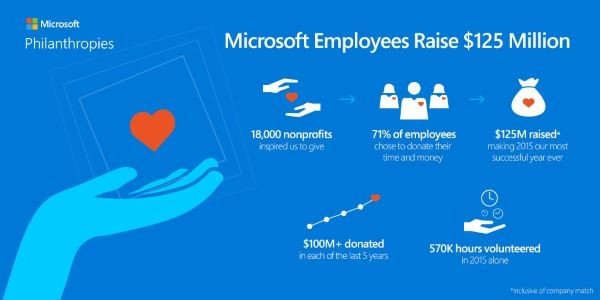 "We celebrate the work of our nonprofit and education partners at the same time as we share our Employee Giving results, because they have inspired Microsoft employees to do more and give more. In fact, this year the participation rate for our Employee Giving Program hit an all-time high of 71 percent," says Mary Snapp, Microsoft corporate vice president and head of Microsoft Philanthropies.
More companies could do well to take a page from Microsoft's handbook when it comes down to donating on a yearly basis. Employees giving a combined $125 million is no easy feat, especially when they did not have to in the first place.
We should point out that Microsoft employees do not only donate from their pockets, but they also use their time and talents in several needed areas.
What's the plan for the future? Well, Microsoft is aiming to donate over $1 billion in cloud services to non-profits and the education sector over the next three years. Sit back and allow that to sink in, folks.
Source: Microsoft.