A few weeks ago, Microsoft officially revealed that its UI Fabric is set to evolve into Fluent UI, a subset of the company's Fluent Design System, which promises to use a standalone UI library for its web components. Enters Fluent UI, Microsoft's plan of action to create cross-platform apps and services with the help of a collection of its UX framework.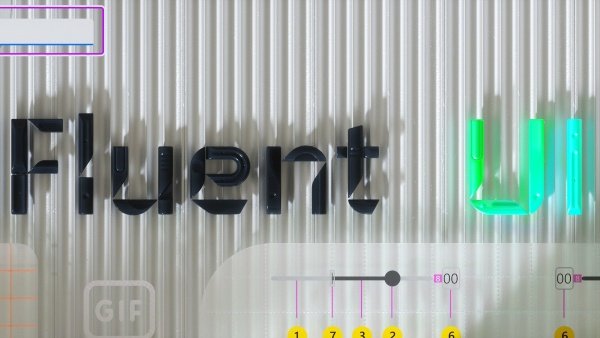 Microsoft Fluent UI teaser out
Microsoft has briefly revealed how Fluent UI is set to deliver a streamlined experience across different platforms and devices when providing users with Microsoft 365 services like OneDrive, Outlook, Office, and Teams. In its recent Medium post, Microsoft wrote:
"Microsoft has built the world's preferred productivity apps for decades. Powerful tools, such as Office, Outlook, OneDrive, and Teams, empower people around the world to achieve more. Fluent UI, a collection of UX frameworks, is how we'll deliver these experiences to our customers."
Microsoft's Fluent UI brings together its web and mobile UI libraries under a common roof. This way, the company hopes it can bridge the gap between design and code, starting with a design token system. Microsoft has also released its Fluent UI teaser:
Some of the core applications of Fluent UI include a new cross-platform library, native experience for each device, an improvement in user productivity, modernizing its theming architecture, etc.
In addition to creating web and mobile apps that share code, design, and interaction behavior across Windows, web, iOS, macOS, and Android, Microsoft wants to deliver experiences across devices more quickly.
Microsoft's Fluent UI is supposed to ensure that user experience remains all the same across devices whether you are working on Microsoft 365 from your phone, tablet, laptop, or large screen. As a result, Microsoft's focus remains on certain specific UI components that according to the company make its apps feel Fluent such as its custom navigation bar.
"This means when you learn one Microsoft 365 app, you can easily pick up another and have a pretty good idea how to navigate it and get things done."
Yammer happens to be the company's first application to use the Fluent Design system to its full potential. Yammer has announced the public preview of a new, redesigned interface alongside new capabilities and integrations throughout Microsoft 365.
Microsoft will reveal more about Fluent UI at the Microsoft Build 2020 conference. The 2-day conference kicks off May 19.