Microsoft recently released new Windows 10 Cumulative Updates, KB4103721 (1803), KB4103727 (1709), KB4103731 (1703), KB4103723 (1607), KB4103728 (1511), and KB4103716 (RTM). The update addresses a lot of problems Windows 10 has faced over the past couple of months. For example, certain VPN apps failed to work properly, a problem that was caused by the April 2018 update.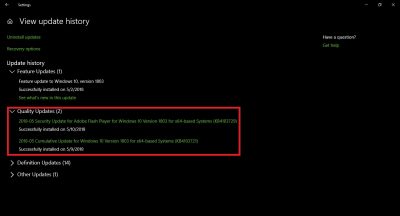 KB4103721, KB4103727, KB4103731, KB4103723, KB4103728, KB4103716 bricking PCs
Furthermore, if App-V Scripts (User Scripts) are not working, this new update is designed to fix that once and for all. However, all is not perfect since the Windows 10 Cumulative updates are bricking computers around the world.
Several users have taken to Reddit to speak about the issue. Some folks will witness their computer screens fall into a black screen and there is no easy way to get out of it. Some are forced to restore their operating system to a past state for things to run smoothly again.
"The update is bricking my computer. After the update (KB4103721) download and installs, after restarting my computer will hang on a black screen and do nothing. The only way to fix it is to restore my PC to a previous restore point, where the PC will boot up normally again. Automatic Updates then installed the update again and the issue returned. After a restore point, my PC booted again. Please fix this update so I can use my PC," according to a user on Reddit.
In my personal experience just recently, my computer froze after going into standby mode. The screen doesn't come on, and if it does, everything is unresponsive.
The best option is to force shutdown the computer and turn it on again. Hopefully, Microsoft releases a fix very soon.
If you've yet to download the new Cumulative Update, then we'll recommend staying away for a while until a fix is implemented.