Microsoft wants to help users keep things organized in Outlook on the web. That's why Microsoft has come up with something they call Project Moca. Microsoft just wants to make it easier for you to organize your content and simplify your workflow using Outlook on the web. As a result, Microsoft believes you can prioritize things that matter to you the most and reduce the amount of clutter as well as distraction.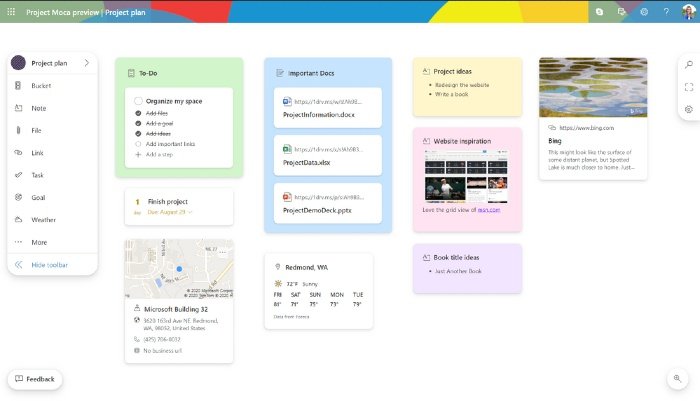 Microsoft launches Project Moca
Microsoft continues to add productivity features to its apps and services on a regular basis. This week, Microsoft announced several new features in Teams that ensure you don't have to switch between apps to maintain To-Do lists. Similarly, new features added to Edge allow users to send their Collections across devices to OneNote. Now, Microsoft has shifted its focus towards Outlook on the web. In its recent blog post, Microsoft wrote:
"Keeping things organized is one step to being productive. Having everything in one place will save you time and being able to quickly find what you need will make you more effective. Imagine a dresser, with unlimited drawers, and each drawer with unlimited organizers in them. To help you achieve that, we are introducing Project Moca in Outlook on the Web."
What is Project Moca?
The goal behind Project Moca in Outlook on the web is to simplify workflow in such a way that users can easily focus on tasks and content that matter. It enables a dynamic space for users to add tasks, goals, notes, and files from OneDrive and other cloud storage providers. What's more, users can also add links, contacts, emails, and events into one dynamic space. Users can always customize content visibility.
How to get started with Project Moca?
Project Moca is accessible in the module switcher in Outlook on the web. Do you want to access Project Moca? All you need to do is click on the overflow menu. There are a couple of ways you can get started with a dynamic space. You can either start a space from scratch or use a template. Now, start adding content to it by navigating to Bucket > Create drawer organizers.
Project Moca in Outlook on the web is available for Microsoft 365 consumer subscribers, EDU customers, and select commercial customers.