In its latest Microsoft Security Intelligence Report (SIR), Volume 14, released recently, Microsoft has found that millions of computer are not running up-to-date antivirus. In terms of percentage, Microsoft found that almost 25% of the computers did not have an updated antivirus protection installed on their Windows computers.
Without adequate security protection, computers are 5.5 times more likely to be infected with malware, says Microsoft, so it is imperative that Windows users install a good antivirus software and make sure that it is updated frequently.
The report touched upon the two big online threats being faced by computer users:
Malicious email attachments from almost 3 million computers in the fourth quarter of 2012 was detected and removed by Microsoft
Keygen, a threat family commonly bundled with malware, was detected almost 7 million times in the fourth quarter of 2012.
Many people do not bother to even check if their antivirus is installed, active or update. There are a number of reasons that 2.5 out of 10 computers are unprotected. The trial period may have expired, or the software is out of date, but it still continues to be installed. Or maybe the security software was disabled by malware. And then there are those few who still do not realize the importance of Antivirus and so do not even install it.
Check out this Infographic released by Microsoft: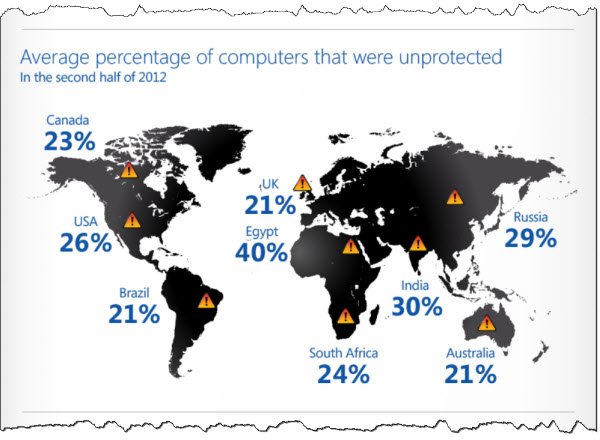 Microsoft releases the SIR twice a year to inform the public about the most prevalent global threats. The report analyzes the threat landscape of exploits, vulnerabilities, and malware using data from Internet services and over 600 million computers worldwide. You can download the report by clicking here.