Minecraft fans will be happy to know the final death match Battle mini-game is rolling out in full force today. If you're an owner of the console edition, the Battle mini-game will be free to download. As for those who own the mobile and PC versions, we can't quite say when it will come.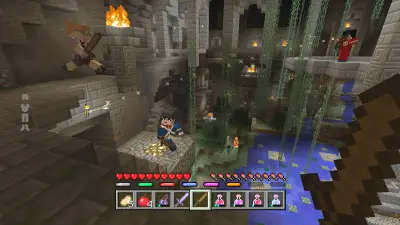 Minecraft Battle mini-game
From what we have come to understand, the Battle mini-game will have three free maps. With these new maps, players can battle their friends any time they want. Furthermore, Mojang will release new maps in the future for $2.99. Players can also use the Battle mini-game to run and jump into sessions, something quite popular among Minecraft fans.
While this will be the last deathmatch Battle mini-game, Mojang plans on releasing other mini games but we're not certain in what form as of now. We do know, however, that they will be created with consoles in mind, and will also be designed for couch competition. This means that folks should be able to enjoy this game with a controller as much as possible.
It should be noted there's no reason to craft things in the Battle mini-game. However, it is possible to loot inventories and equip armor when they are available. Now, should you fall in a fight, there's an option to respawn as a spectating bat that keeps on fluttering in the face of the person who killed you last.
The whole thing seems like a fun experience, one we would love to play as soon as possible. From what we have seen, this is a game that will keep Minecraft players on consoles coming back for more.
Here's what Mojang had to say via its blog:
Are you a master swordsman? A dead-shot with a bow? A demolitions expert? A fisherperson with an unusual lust for vengeance? Then sharpen those tools of destruction and strap on your toughest enchanted helm: it's time to do Battle!

Battle is the first of several mini games we're releasing for Console Edition and will be rolling out as free update across Xbox, Xbox One, PS3, PS4, PS Vita and Wii U today. It's a last-minecrafter-standing deathmatch in which players tussle over resources and weapons in perilous arenas, fending off would-be assassins and their own hunger pangs.