It will be now easier than ever to emulate full Windows 10 PC experience on a Smartphone. Microsoft has made available MobileShell app in Microsoft Store. The app features an app launcher, supports a touch-friendly interface and navigation shortcuts, all of which makes running Windows 10 on small screens possible.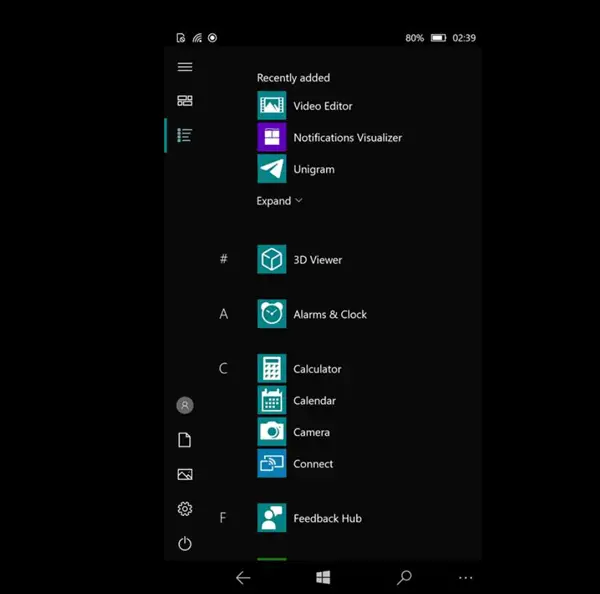 MobileShell for Windows 10 on ARM available in Microsoft Store
Although Microsoft had killed its mobile ecosystem, some Smartphone enthusiasts still preferred running Windows 10 ARM on their Smartphone. The ARM  architecture was primarily optimized to work on touch-friendly devices. However, the development of the MobileShell app will enable the same capability on Smartphones. In short, it will deliver full capabilities of Windows 10 on Smartphones, just better suited for a smaller device.
MobileShell is a custom "shell" that partially replaces the tablet mode shell. It tries to recreate the Windows 10 Mobile shell experience, and it's perfect for small devices, reads the app description on the Microsoft Store page.
When the idea was first proposed, it generated much enthusiasm; however, like other similar projects, it had its own set of limitations. The user interface was not optimized, and the handset was not large enough for regular use. Apart from these, the relevant drivers were missing or not available.
The availability of MobileShell app makes sure that various UI elements required to replicate the PC experience are properly aligned with Smartphones. With this recent development, you could soon see your mobile devices run Windows 10 smoothly.
The most recent version of the app sees the addition of dark and light theme support. To see it working, go to Settings > Personalization > Colors > and
Choose your color
Choose your default app mode
Since its a very early release, we can expect few glitches and bugs but expect them to get fixed soon.
Get the MobileShell app from Microsoft Store.