A bug in Firefox was preventing existing and new add-ons from running or being installed. It was reported only yesterday, and Firefox is now rolling out a fix for all Firefox Desktop users on Release, Beta and Nightly. The fix will be applied automatically in the background, and users don't have to download and update Firefox.
Firefox bug prevents add-ons from running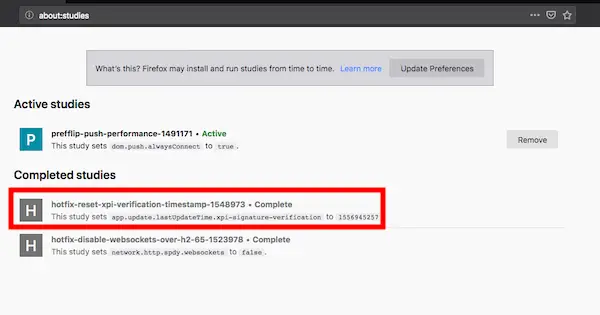 Our team has identified and rolled-out a fix for all Firefox Desktop users on Release, Beta and Nightly. The fix will be automatically applied in the background within the next few hours. No active steps need to be taken to make add-ons work again. In particular, please do not delete and/or re-install any add-ons as an attempt to fix the issue. Deleting an add-on removes any data associated with it, where disabling and re-enabling does not, says Mozilla. The fix does not apply to Firefox ESR or Firefox for Android. We're working on releasing a fix for both, and will provide updates here and on social media, they add.
So how is Firefox able to fix the issue without updating the Firefox? That's where the Studies system comes into the pictured. This feature is enabled by default for all versions of Firefox.  If it's disabled on your version or you have disabled it, make sure to enable it.
Open Firefox and type about:studies in the address bar.
Hit Enter.
Check if you have an active fix "hotfix-update-xpi-signing-intermediate-bug-1548973".
The status of the update could be in the Active studies or Completed studies section.
You may see other fixes as well. If its not there, then the Studies is disabled in Firefox. Follow the steps mentioned ahead in the post to enable it.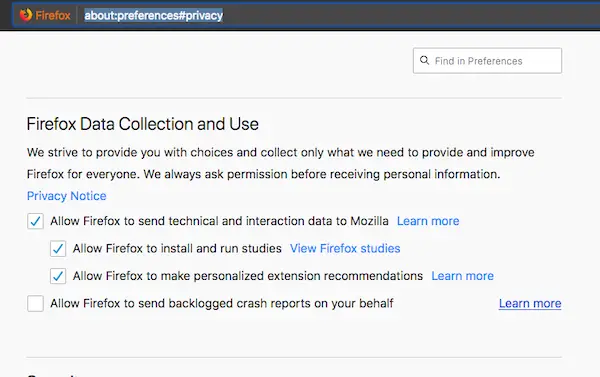 In the address bar type about:preferences#privacy and hit Enter.
Search for text Allow Firefox to install and run studies.
Check the box to enable it.
Restart Firefox, and wait for some time for the update to appear.
Looks like its a good option to keep it enabled in a situation like these, but if you do not want, you can disable it by unchecking it.
Mozilla is working on a general fix which doesn't use the Studies system, and an update will follow soon. I am expecting in a couple of days; Firefox should get security or a general update to fix this for good.
Did you face this bug recently on your Firefox? Let us know if this fixed the problem