In its latest pursuit to make the browser more user-friendly, Mozilla released Firefox 55, the browser that ships with WebVR support. The added capability means no need to download an individual app to experience the world of virtual reality. Following Microsoft's Edge and Google's Chrome, Firefox is the third web browser to offer built-in WebVR support.
Mozilla Firefox 55 now available
In addition to the above, the new version of the browser boasts a number of features. For instance, a new panel – 'Performance' allows Firefox to easily handle complex websites, particularly when there are multiple tabs opened. The setting can be readily accessed from the 'General' section found under 'Options'.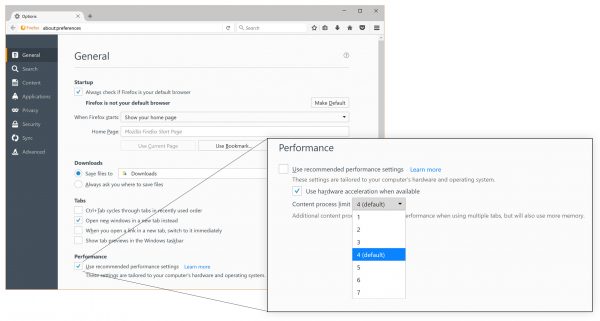 Perhaps you're starting to see a pattern – we're working furiously to make Firefox faster and better than ever. And today we're shipping a new release that's our best yet, one that introduces exciting, empowering new technologies for creators as well as improves the everyday experience for all Firefox users, mentions Mozilla Blog.
Firefox has cut short the time (from nearly eight minutes to just 15 seconds) required to start the browser when restoring tabs from a previous session.
Digitally aware citizens prefer making informed choices. Internet search function has a key role to play in this. Realizing this, Mozilla has enabled quick search, right from its Address bar. All a user needs to do is simply type or enter his query in the address bar, and then choose which search engine he would like to use. The list includes names like Yahoo, Google, Bing, Amazon, DuckDuckGo, Twitter, and Wikipedia. Moreover, a user can customize this list of search engines in settings.
Other Improvements Shipping With Firefox 55:
Print preview feature to simplify print jobs
WebExtensions performance improvements
Simplified Windows Stub installer
WebRequest API improvements
Mozilla Firefox 55 is now available to all users. To know more features, visit Mozilla Blog.