A few days ago, Mozilla embarked upon a new mission in creating a browser catering specially to developers' needs. Fast forward a week, we learn the browser maker has revealed some additional details about the Firefox Developer Edition browser. On Firefox's ten year anniversary, the developers disclosed details of the browser's latest iteration that includes all the tools experienced Web developers are familiar with and need while working .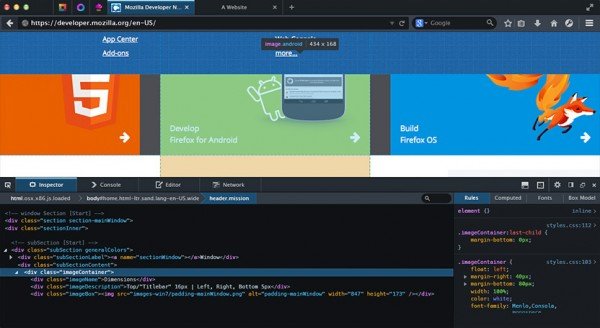 Firefox Developer Edition Browser
Developers are critical to the continued success of the Web. The content and apps they create compel us to come back to the Web every day, whether on a computer or mobile phone," writes Dave Camp, director of Developer Tools at Mozilla.
The browser comes with two new features, Valence and WebIDE, which were built to improve workflow and help debug other browsers and apps directly from Firefox Developer Edition.
Valence, which was previously called Firefox Tools Adapter, lets you develop and debug apps across multiple browsers and devices by connecting the Firefox dev tools to other major browser engines.
The second feature, WebIDE allows users to develop, deploy and debug Web apps directly in the browser, or on a Firefox OS device. It also allows you to create a new Firefox OS app from a template, open up the code and edit it.
Third, there's Responsive Design Mode that allows you to get a raw picture of what your website or web app will look like on different screen sizes. Then, there's the JavaScript Debugger to help you track down bugs.
Apart from the above, there are additional features that developers are already familiar with, such as the Page Inspector, Web Console,  Network Monitor, Style Editor, and Web Audio Editor.
Mozilla has also released a teaser trailer of the browser. Interested ? Do check it all out there!