The latest versions of popular browsers have been keen to improve cookie tracking management options to stop websites from tracking customers. The same has been a motto of some web browsers like the Microsoft Edge and the new Safari. Mozilla has now decided to integrate Total Cookie Protection to the latest version of the Firefox browser.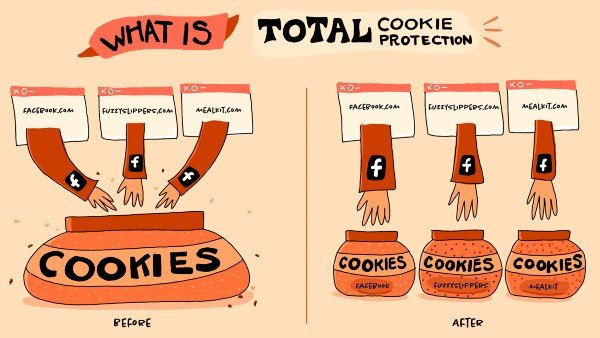 Firefox Total Cookie Protection
Mozilla added this feature to the most recent version of the free-to-use browser, and users can download the most recent build from the official website. The version also brings Multiple-Picture-in-Picture mode.
Total Cookie Protection changes how the Firefox browser handles web cookies when visiting websites on the internet. Instead of keeping all their web cookies in a single place, Firefox will create a separate container to store cookies from individual websites. For instance, if there are ten websites that you have visited, you will find ten cookie containers.
It will prevent the websites from interacting with other cookies on your browser and subject you to constant tracking. Mozilla says Total Cookie Protection will work with many previously launched features like Enhanced Tracking Protection and Supercookie Protection. All of them are designed to prevent consistent tracking of user activities.
As Mozilla says, Total Cookie Protection isn't supposed to work alone. The feature needs considerable help from ETP and Disconnect list to make privacy-focused decisions while handling tracking cookies. In the last month, the same team had introduced layers of protection against supercookies, which look normal but are difficult to delete or block.
Even so, Total Cookie Protection takes things to a brand-new level, making it difficult for companies like Facebook and Google to come up with personalized advertisements wherever on the web browser. Convenient enough, users can turn on all these features by enabling Strict Mode on Firefox privacy settings.
The version has introduced support for an advanced version of Picture-in-Picture mode. You can now launch and use multiple Picture-in-Picture interfaces on Windows, macOS, and Linux. The company has also mentioned a few things you can do with this handy PiP mode.