Mozilla Firefox, once again, is bringing a new and refreshing change in the world of search engines. Now, with a single click, you can search for the relevant information and that too, from a selected source with the help of its new search interface in Firefox. Didn't get the change yet? Read along:
What do we generally do while searching for some information? Depending on the browser, we usually start with typing the address of search engines. Of course, now-a-days, some browsers like Chrome have reduced our efforts there. Then, we type the keywords in the search window for the information we are looking for. And what we get as results is a list of websites where our intended information is available. But, if we are looking for information specifically from a source like Wikipedia, we need to take one more step of clicking on the Wikipedia link from the search results. Now, how would you feel if you type the keyword and then have the ability to select the source as well?
You will get easy, quick and to-the-point information! And that is what offered in the new search interface in Firefox.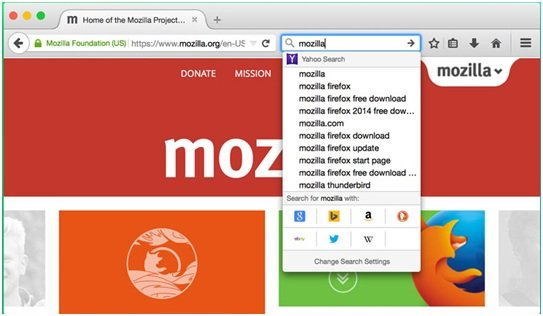 How the search interface in Firefox works
The change in search interface in Firefox is explained by Mozilla as,
"When typing a search term into the Firefox search box, you will notice two new things: first, we improved the design of search suggestions to make them look a lot more organized. And second: there is an array of buttons below your search suggestions. These buttons allow you to find your search term directly on a specific site quickly and easily."
As you can see in above image, there are a number of buttons visible at the bottom of the search window. You can select the source of information from these buttons, such as Google, Bing, Amazon, Twitter or Wikipedia. You can add more buttons as per your requirement via 'Change Search Settings' tab. For example, if you are developing content and need to look for synonyms every now and then; then a dictionary site can be your choice.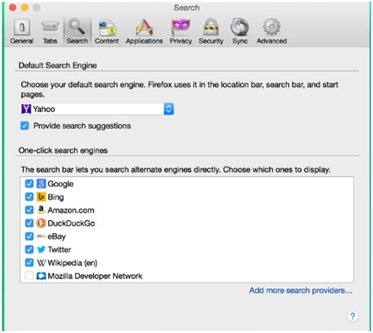 Finally, as Firefox says on its blog,
"Firefox is all about choice, and with the new UI, searching is now more flexible and powerful than ever. Coming soon to a Firefox near you!"
The new change in Search interface in Firefox is certainly enthralling for the users. You can read related blog on Mozilla's blog website.