The world is changing and so does Microsoft's product family. The latest to receive the change is MSDN Developer forum. The forum gets a new face-lift by shifting from old-fashioned interface to what Microsoft refers as 'Modern UI'.
MSDN Developer Forum Redesigned
In a blog post titled – A Refresh of our Forums, Brian Harry, a Microsoft Technical Fellow working as the Product Unit Manager for Team Foundation Server highlights the changes that have been made to substantially improve the experience of both, people looking for answers and those providing them.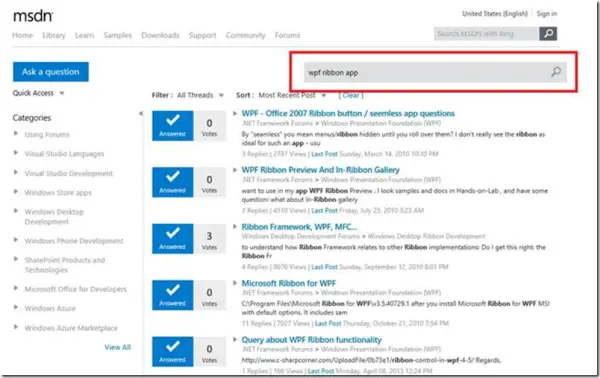 Now, withsearch as the entry, it has become easier to find what you are looking for. No need of navigating categories to find those that might be relevant.  You can search directly from the root and get results immediately.  The categories show up on the right hand sideand you can filter the results, easily.
"Since Forums now handles its own search, you can find threads which are highly related. If you land on a thread page after using a search engine (Bing/Google), the query string from the search engine is automatically transferred to Forums. With a click of a button you can continue your search without leaving Forums", said Bryan
Moreover, the forum page too has been reformatted to accommodate provide more space for your content and added previews so you get a glimpse of the thread before even opening it. There are more changes made, you can find the complete list of it along with details, here.
Lastly, for its forum users and visitors, Microsoft has added indicators to show private forums and abusive content. Any content deemed unfit for users or inappropriate can be voted as abusive content by the users in the message boards.