Users always have always had complaints about searching for their favorite music from within the Music app in Windows 8. However, the new update released to the app hopes to change it all.
Music App in Windows 8 gets an update
Apart from few bug fixes and other User Interface enhancements, the updated adds new options and more customization settings. Like earlier, you just have to sign in to the Music app on your Windows PC or tablet and you can stream millions of songs for free* (with ads) with Xbox Music.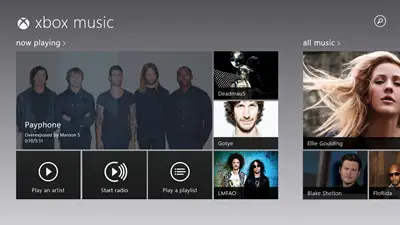 Thereafter, you can search for any artist, song, or full album and instantly play the song of your choice. Some of the smart features such as SmartDJ as known previously and now radio, you can discover new music and create custom stations based on your favorite artists and the music you love listening to.
"Today's update to the Music app brings an in-app search button at the top right that allows you to search directly within the app for music on your PC, or in the Xbox Music catalog. The Music app will also now let you try Xbox Music's free ad-supported streaming service by allowing you to listen to up to 15 songs without having to sign in," wrote Brandon LeBlanc in Windows Experience Blog post.
Additional details will be made available after the preview of updated version of Windows 8 – Windows 8.1 goes live next week during the BUILD developer conference. On a side note, just few months ago, if you remember the Music app in Windows 8 had received an update that allowed its users to import iTunes playlists.