MX Player, the on-demand video streaming service announces free streaming services in seven new countries. After providing its free streaming services in India for quite some time, MX Player has now expanded to seven new markets including Australia, UK, and the US. The application has a monthly viewer base of more than 175 million with its original and licensed content. For now, you might see the maximum content from India but they are now adding a good number of international shows and movies too. The international content on the player will be from local and international production studios.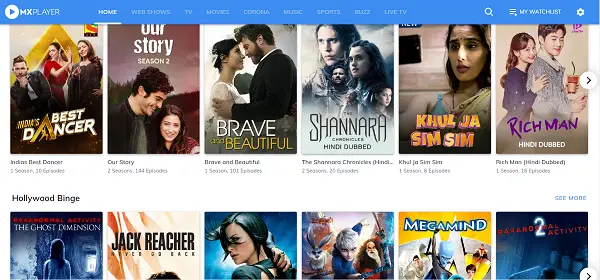 MX Player launches free Movie & TV streaming services
MX Player is notably different from the popular video streaming services like Netflix and Disney's Hotstar. It doesn't offer a wide range of International and is largely aimed to cater to the Indian audience.
The free streaming service is extended to Bangladesh, Australia, Canada, New Zealand, UK, USA, and Nepal. The company plans to extend it further in the near future.
CEO of MX Player, Karan Bedi, says:
At MX Player, we are trusted by over 100 million users every month across South East Asia, Middle East, United States and the United Kingdom for their daily entertainment needs. Our vision is to build the most comprehensive entertainment platform that hosts digital-first stories that appeal not only to the eclectic tastes of viewers in the region.
MX Player is an Indian mobile video player app created by the digital media division of Time Group headquartered in Singapore. It is one of the most popular Indian media streaming services and has raised$111 million in a round led by Tencent last year.
The application offers free shows and movies at no cost and monetizes through advertisements.
You can download the MX Player app, from the official store, on your mobile or tablet and enjoy the free movies and TV shows.