Security vulnerabilities and Malware are on a constant rise and it becomes important for the users to be aware of these threats and take cautionary measures. A new adware unearthed by Security researchers clones the entire Chrome browser and it does it so well that you will probably not find it to be any difference from the original browser.
The adware called "eFast Browser" works all by itself once it is installed replacing the original Chrome Browser. Since the adware replaces the entire browser, the attackers can carry out illegal activities with your account.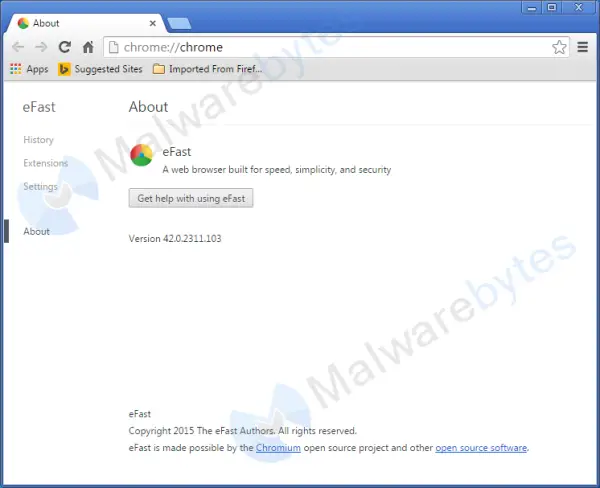 eFast Browser – Chrome browser adware
The adware however restrains from hacking your accounts as of now, and instead intends to generate revenue by placing proxy ads on your browser and also placing ads on your web pages. Additionally, the browser also redirects the users to malicious websites and also bogus marketers to generate revenue. The eFast Browser is installed into the system through various means and one of them is popup advertisement wherein the browser in question claims to "Make your browsing experience faster"
How does the Adware get installed
Rather than taking control of your browser eFast replicates entire browser and simulates its own environment thus letting it hijack many files including HTML, JPG, PDF and GIF. Furthermore, the eFast also deletes all the shortcuts to Google Chrome on your taskbar and desktop creating a confusion among the user.
According to PCrisk, eFast Browser is yet another Potentially Unwanted Program which tries to install itself in the PC donning many avatars and hiding inside the installation files of other software. It is easy for the attackers to replace your browser as opposed to infecting it. Thankfully unlike other irritants like Ask Browser add-ons eFast Browser is both easy to spot and also relatively easy to remove. That being said we would recommend you to flush the temporary files and clear cache once you uninstall the browser and also restart your system once.