As we all know that UWP or Universal Windows Platform lets a developer code one and target multiple devices like Xbox One, Windows 10 PC, Windows 10 Mobile, Hololens and more. Fitbit took advantage of this platform and has just released the Fitbit Coach app for Windows 10 PC, Windows 10 Mobile, Xbox, and Hololens. Fitbit has always been an early adopter of this new platform because they released a UWP for the Fitbit app at very early stages of the development of this new platform. Also, while many popular names are taking their apps from the Microsoft Store for Windows 10 Mobile, they are constantly updating the apps in order to support the platform.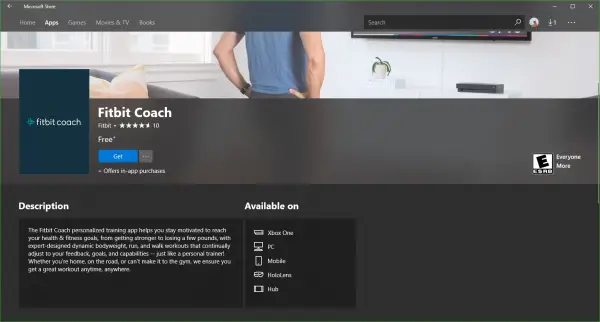 This app has already been available on Android and iOS platforms, but this release on the Microsoft Store gives a new light of hope in the eyes of the consumer and shows that the UWP strategy by Microsoft is also heading to a right direction.
The app description on the Microsoft Store reads:
The Fitbit Coach personalized training app helps you stay motivated to reach your health & fitness goals, from getting stronger to losing a few pounds, with expert-designed dynamic bodyweight, run, and walk workouts that continually adjust to your feedback, goals, and capabilities — just like a personal trainer! Whether you're home, on the road, or can't make it to the gym, we ensure you get a great workout anytime, anywhere.
And talking about the features, it says:
Video workouts—like Warm It Up and 10-Minute Abs—that show you the exercises and provide step-by-step coaching, motivation, and tips. Most workouts are dynamic and evolve based on your plans, goals, and feedback. New workouts are added regularly to keep things fresh. Customizable music via Fitbit Radio powered by Feed.fm, which offers a variety of stations, from pop to hip-hop, so you can choose what motivates you. Recommended Workouts based on your daily activity (if you use a Fitbit device), providing personalized fitness guidance to better help you reach your goals. More than 50 expert-designed running and walking audio workouts in the Fitbit Coach mobile app designed to help you safely improve your endurance, speed, and form. Choose from outdoor or treadmill sessions and select the difficulty, duration, trainer, and music.
This app is available to be downloaded from the Microsoft Store now and can be found here. Also, this app can be used on a Surface Hub if you own one.