Microsoft made some big announcements when it comes to gaming in its annual Xbox Event, Inside Xbox, which was majorly dominated by new Xbox Game IPs.  It includes over ten Xbox Game Studios game, three brand new games revealed for Xbox game studios, and four more world premiere titles from independent developers. That said, one of the major announcements was to push Game Pass for Xbox PC and Xbox One. Now not only do we have new offers, but also new Xbox Game Pass Games.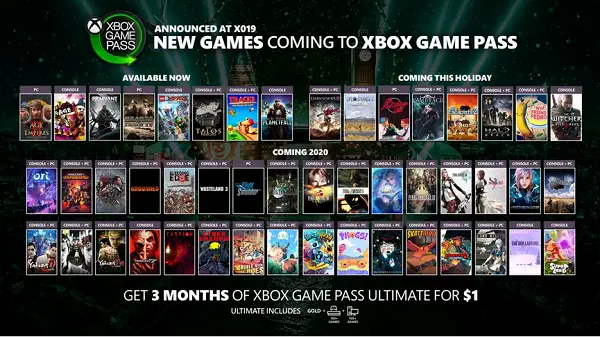 New games for Xbox Games Pass for PC
Until a few years ago, the Xbox Live Gold subscription was the offer pushed by Microsoft. Now its Xbox Game Pass. The subscription service lets you download games for cheap, get new free games, includes Xbox Live subscription and get access to new games before anybody else.
If you are in the US, a significant holiday is on the way. Microsoft has unveiled over 50 games coming to Xbox Game Pass. So if you are excited about it, then the Xbox Game Pass holiday offer includes three months of Xbox Game Pass Ultimate for just $1. The offers started on November 14th.
And if you are joining for the first time, then you will also get one month of EA Access, three months of Discord Nitro, and six months of Spotify Premium as part of their member benefits. More details about Xbox News Game Pass on Xbox.com.
If you join Xbox Game Pass ultimate, you also get Xbox Live Gold with it. Microsoft is also offering up to 20% off games in the Xbox Game Pass library, plus up to 10% off related game add-ons and consumables.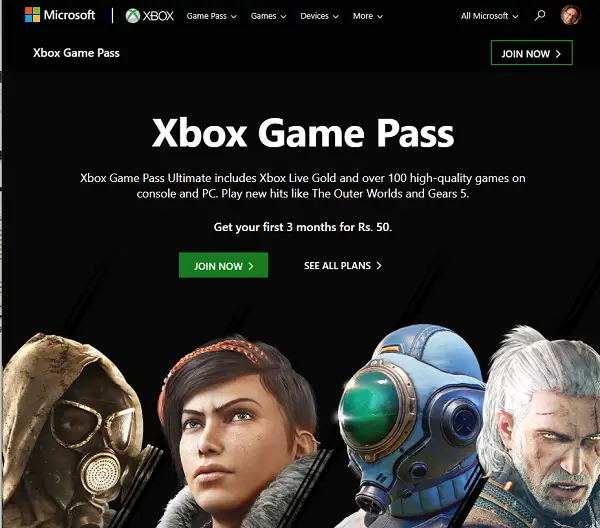 < I am adding this from the official list as it. Cant modify the list. If you want, you can remove it.>
If you subscribe right now, here is the list of games you can play:
Age of Empires II: Definitive Edition (PC)
Age of Wonders: Planetfall (Console, coming soon to PC)
Hearts of Iron IV: Cadet Edition (PC)
LEGO: The Ninjago Movie Videogame (Console)
Rage 2 (Console & PC)
Remnant: From the Ashes (Console)
The Talos Principle (Console & PC)
Tracks: The Train Set Game (Console & PC)
And that's not all. Microsoft has made sure that Xbox Game pass members get all the benefits. The list of games that are coming to Xbox One at the beginning of this holiday and throughout 2020 is available on the official announcement.
List of Major Games announced during the X109 Event
Grounded: Its a survival game launching in Spring 2020 with Xbox Game Pass.
Everwild: Its a new IP from Rare, which is built around a magical and natural world.
Sea of Thieves: Making it more realistic for pirate lovers, a new update will bring firebombs and tale of Seabound Soul
Bleeding Edge: Launches with Xbox Game Pass on March 24, which is a 4v4 online team brawler.
Age of Empires II: Definitive Edition will include remastered 4K graphics and a new expansion
Minecraft Dungeons
Wasteland 3's Post-Apocalyptic World coming in May 2020
CrossfireX Gameplay coming exclusively to Xbox in 2020
Star Wars Jedi: Fallen Order 
There are more games the details of which you can read on Xbox News.
Project xCloud Coming to Windows 10 PCs and New Markets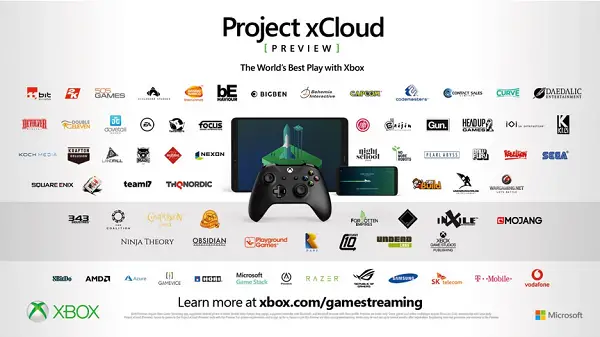 Announced during E3 2019, it's subscription service that can turn your Xbox into a Project xCloud Server. However, if you use this on your Console, it's going to be free.
At X019, Microsoft announced that more than 50 new titles from over 25 of partners would join the Project xCloud public, which includes Madden NFL 20, Devil May Cry 5, and Tekken 7.  And since PC gaming is most important for Microsoft, it will be coming to Windows 10 PCs in 2020.
Apart from that, it will be expanding its support to Bluetooth controllers, including the DualShock 4 wireless controller and gamepads from Razer. Adding to it, more countries will be included in this later. More here.
Overall, the Xbox Inside event is all about new games and Game Pass. If you play a lot of games, Xbox Pass seems to be an obvious choice as it includes Xbox Live Gold membership.