In today's digital age, email has become a primary source for communication. It helps you schedule your meetings, fix appointments and do a lot more. Most business establishments today, rely on this method of communication. As such, it is essential to continually improve the service for the convenience of the users. Microsoft intends to achieve this via 2 new features rolled out at its Ignite Conference – Connectors and Actionable Messages. These two new additions are a part of New Outlook partner integrations.
New Outlook partner integrations
Over the last year, we've introduced add-ins for Outlook on the web and desktop, which help you accomplish tasks quickly right from email, saving you the time spent switching between apps or signing in to separate services. Today, we are excited to announce that we're bringing these add-ins to Outlook 2016 for Mac users. Additionally, we are launching new Outlook integrations—Connectors for the inbox and Actionable Messages—that enable you to take quick actions right from email, mentions Office blog post.
Connectors
From the above, it means that Outlook on the web users will now have access to 'Connectors'. Upon subscribing, connectors will deliver relevant content and updates from popular apps and services (Twitter, Trello, Wunderlist, and more) to Office 365 Groups. Users can configure other settings based on their preferences. Once configured, users will instantly start receiving notifications from the connector.
To access Connectors for the inbox in Outlook on the web, click the Settings gear icon (top right) and select Manage Integrations. Then, click Connectors and add the connector you wish to install.
When done, click the Settings icon, select Manage Integrations and navigate to Connectors to add the connector you wish to install.

Actionable Messages
As the name suggests, Actionable Messages allows you to take quick actions in your email like updating a task or liking a social media post right from an email.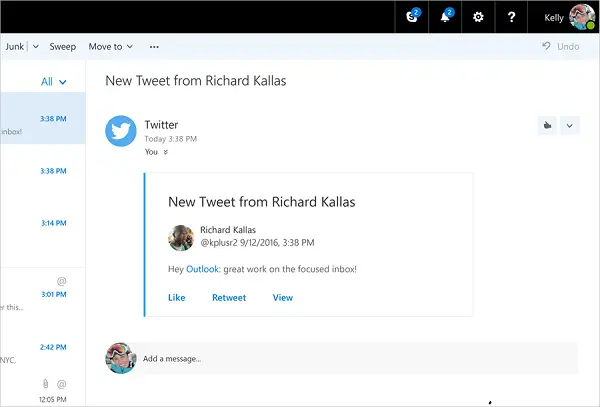 Give these new Outlook integrations a try! If you have any suggestions on new partner solutions that you'd like to see in Outlook, drop them in the add-ins section of Outlook.UserVoice.com.