Microsoft has announced that a new feature is added to Windows Search, named Work Vertical. This search feature is available for users signed in with school or work accounts. Do not get confused with normal Windows Search as Work Vertical is different from normal Windows Search.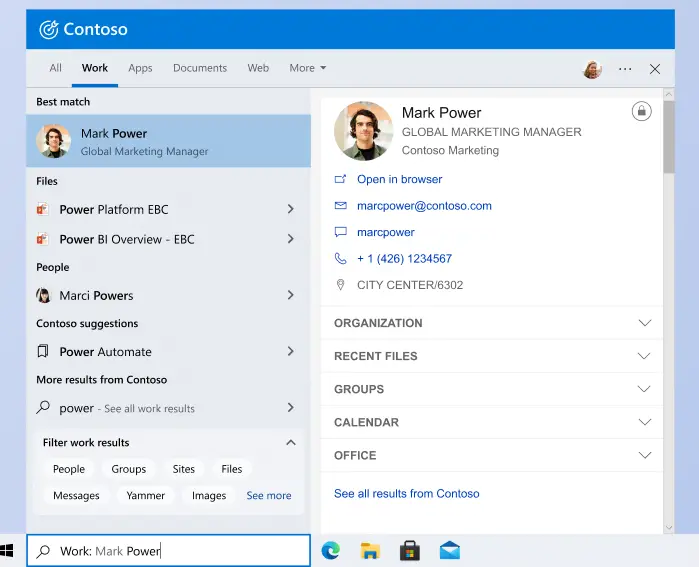 New Work Vertical feature in Windows Search
Now, users with work or school accounts will get more simplified search results. While using the Work Vertical feature in Windows Search, web results will not appear which will help users to keep the focus on their work. To use this feature, you have to type Work: followed by the search term in Windows Search.
The Work vertical is a new dedicated canvas for quick and reliable organization-wide search in Windows Search. It's tailored for workplace search and work results are a click away and always visible. It provides a coherent, complete, and consistent search experience, bringing together Microsoft 365 and third-party data. It simplifies the overall workplace search experience and improves the discoverability of relevant work results with easy and reliable navigation by providing a quick and transient way for users to complete the task.
Work Vertical is dedicated to providing users with almost all results that they expect in a workplace search, including People, files, answers, Outlook emails, Teams chats, etc.
Microsoft also added files to the Work Vertical that will help users to narrow down their search. Filters including People, Groups, sites, messages, Yammer, and more can be applied to the Work Vertical search.
To enable this new feature, your system should have the following requirements:
Windows 10 version 1809 or later
Microsoft Search in Bing should be enabled for your organization
Web search in Windows should be enabled
Cloud content should be enabled for work or school accounts
Windows Search should be connected to the work or school account (Azure AD)
More information about the new Work Vertical feature in Windows Search is available on microsoft.com.