New York Fashion Week saw some great designs this time. However, what really caught audience's attention was the 3D printed garments. The New York Fashion Week took place between 10th and 18th Feb 2016. Many designers from various parts of the globe exhibited their collections.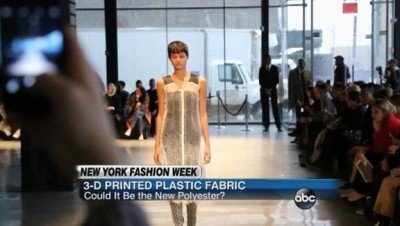 However, many heads turned when Ohne Titel, a Womenswear label created by designers, Alexa Adams and Flora Gill, took the ramp. The specialty of this collection was 3D printed garments which were created using a unique type of fabric and special 3D designs. This is one of the few collections that NY Fashion Week has ever seen, where fashion met technology.
Jennifer Warnick, a Microsoft News Center Staff mentions in her blog about this unique line of clothing,
"Ohne Titel, a womenswear label created by designers Alexa Adams and Flora Gill, turned heads with its Victorian-inspired line featuring layered patterns, graphic prints, ruffles, skirts and a little something else Fashion Week had never before seen: intricate, gorgeous 3D-printed "knit" tops and dresses."
Fashion, Technology and New York Fashion Week
Incorporating fashion with technology is not a new thing. In fact, 3D printing is also not a new kid on the block; it's been there for years now. However, what stood out with Ohne Titel collection in New York Fashion Week was the designers' collaboration with Microsoft technologies, which resulted in a fabric that was unique and never used before.
Alexa Adams from the designer duo mentioned in a statement,
"We are very excited to be working with Shapeways and Microsoft in this; it's a new material and technique they've never used before,"
Ohne Titel is not the only brand or New York Fashion Week is not the only event when Microsoft's technologies were used to create designs and unique patterns of fabric before.
Several designers have been using the cross between fashion and technology for many years now. They have joined hands with the technologists at Microsoft to explore new ways in which they can technology in clothing design. The latest technologies have been used to incorporate 3D printing into the design and production of high-fashion garments.