OneDrive, since its launch, has been a great storage provider for individuals and organizations. Microsoft is now launching the next-generation features of OneDrive to enhance its usability and give users a better experience. The new features include new file views, governance controls, creation tools, and Copilot to help users search quickly and organize everything. These new experiences are even coming to Teams and Outlook for a consistent experience across Microsoft 365.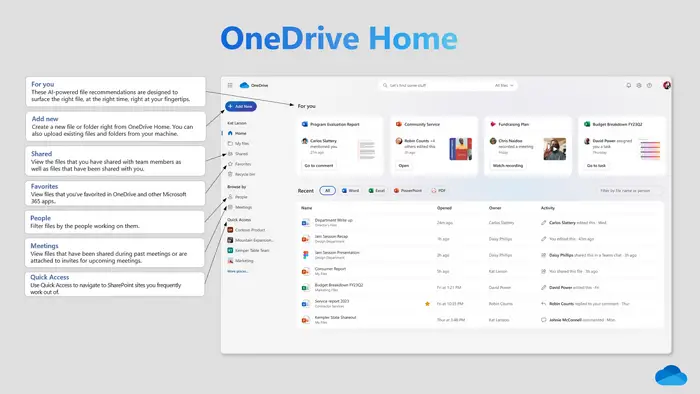 OneDrive 3.0 gets some great new features
Microsoft has announced new features to assist OneDrive users in file organization, access, and creation. The new features will come soon with the updates. There are many features for file management. They are:
OneDrive home to help you swiftly retrieve your files.
For you section to give AI-powered file recommendations.
Meetings view to show you all about your meetings and their history.
People view to look for files based on the sender's name.
Shared view to see all the files and folders shared with you.
Colorful folders to organize your folders in colors.
Favorites to keep track of important files.
Shortcuts to create shortcuts to files to make access easier.
Simplified sharing to share files easily with fewer clicks.
Improved search for people and photos using natural language.
Some new features coming to OneDrive
Open in the app: Soon you will be able to open any file in its desktop app and edit it. The file with the changes will sync with OneDrive automatically.
OneDrive in Teams and Outlook: OneDrive is coming to the Teams app as the OneDrive Teams app soon to provide clean access to all your files across SharePoint and OneDrive for Teams. In the new Outlook for Windows and the web, OneDrive will be added to the left navigation. This feature will be added by December.
Files On-Demand for Web: With this feature, you will be able to access files and folders for offline access on your device. You need to select them to be always available locally directly from OneDrive for the web. This feature is expected to roll out worldwide in early 2024.
Offline mode: Offline mode makes it easy to access and work on files in your web browser, even if you are offline. All the changes you make offline will automatically be synced back to OneDrive once the internet is restored. Also, you can launch OneDrive in your browser to do file management without internet access. Offline features will be available to users starting from early 2024.
Add new: OneDrive will have an Add new button to create a new file in the Summer of 2024.
Media view: This feature will let you browse the content and organize all your images, videos, and media in one place. Media View will be released in the Summer of 2024.
Copilot in OneDrive: OneDrive will soon have a Copilot feature to let users ask open-ended questions related to a file in SharePoint and OneDrive and get a summary of the content. It will be available for all the users who have a Microsoft 365 Copilot license by December.
Microsoft 365 Chat: Microsoft 365 chat will help you go through your entire content of Micorost 365, including your files on OneDrive and SharePoint. You can gather and deliver information using Microsoft 365 Chat.
Advanced Security and Governance
Microsoft, in its blog, announced that along with its new features, they are improving the security and governance on OneDrive. They include conditions to access files deemed to be confidential using multi-factor authentication. You can even restrict and control the access of shared files with people in your organization and outside of your organization.
Moving files to new organizations after mergers or acquisitions is made easier with the new security policies of OneDrive. You can move OneDrive accounts and all existing shared links will continue to work with the redirect feature. You can also block the downloads of shared files on OneDrive and see the insights of collaboration on shared files to prevent data leaks.