Nokia Lumia handsets are the one of the best Smartphones available in the market today. The image stabilization feature of these phones is just great. But that, doesn't differentiate the Finnish Phone maker or its offerings from the rivals. Every other Windows Phone handsets from most popular brands such as HTC and Samsung boasts some characteristic or the other.
Today we learn, the company – is trying something new that would certainly set it apart from its above mentioned rivals. What's that? Nokia is getting its "revolutionary" 41-megapixel Pureview sensor to its Lumia range of Windows Phone handsets.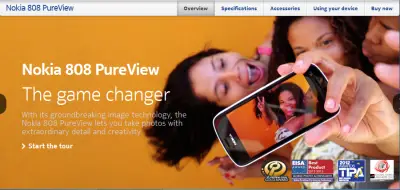 As one of the website reveals, the new model featuring the PureView sensor would be known as EOS and will probably launch this summer in the U.S. If I take a trip down the memory lane, I remember, the 41MP PureView sensor debuted at the Mobile World Congress trade show in Barcelona in February 2012 on Nokia's final Symbian phone, Nokia PureView 808. Since then, there was lot of buzz about it.
The news attracted a lot of attention and even received rave reviews for the efforts put in. The purpose of the sensor was to produce good images though, under low light conditions, not huge images as perceived by few.
PureView cameras instead of front-side illuminated sensors or so-called FSI, as seen in old smartphones feature BSI (backside illuminated) sensors. The main difference between the two sensors is actually the path that light takes in each to reach the photosensitive area of the sensor. With BSI, more light gets through the photos thereby help you get good quality pictures even under low light conditions. This mechanism is somewhat restricted in FSI sensor.
Along with BSI sensor, Lumia phone (920) also has a fixed f/2.0 camera aperture in its PureView cameras. The large aperture helps get extra light to capture good images.
Source:  Nokia | Via: Guardian.