Nokia has said that Nokia Lumia 520 & Lumia 521 will not get the Lumia Amber update to control the Glance Screen. What is the Nokia Glance feature? Well, those who are totally new to this concept and the word comes across as some kind of news to you, it is a screen that displays an on-screen clock. The feature  turns your phone 'Off' when you place it in a pocket and 'On' when you remove it out of your pocket, automatically and displays an on-screen clock.
The feature was launched with the Lumia 925 and is likely to be seen in Lumia 1020 along with other Lumia series devices when Nokia's Amber update rolls out. If you do not find the Nokia Glance Screen on your Lumia with Windows Phone 8, wait for a Nokia Lumia Amber update. The update will be made available to the existing Nokia Lumia range on Windows Phone 8 as an over-the-air update.
Once you have Lumia Amber update, you will receive a notification in Store about Display+touch app update and then you need accept it. You can control the Nokia Glance screen from a pane in the Display+touch section of the Settings menu.
The feature of course consumes power but at the same time is quite unassuming for usage. It is quite ingenious!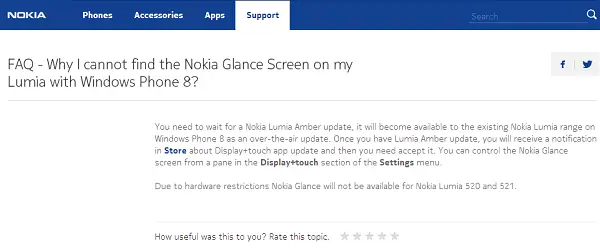 Nokia's Glance screen is not coming to all Lumia handsets. Via an FAQ, Nokia has said that most handsets will get the update with the Nokia Amber update, except the inexpensive Nokia Lumia 520 and 521. The company cites hardware restrictions as the problem for this. Quite disappointing as the two budget devices have done extremely well and are the hottest selling Lumia models.