The long awaited Nokia Lumia 525 has officially been announced today. It is the latest addition into the Lumia line of the series. The device runs on Windows Phone 8, and is an uplift to the Nokia Lumia 520. While some are naming it as the successor of Lumia 520, some find it as a variant of the said smartphone.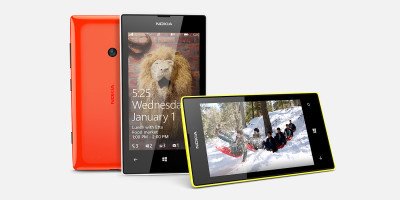 Nokia Lumia 525 Specs
Lumia 525 has a 4-inch screen, with a resolution of 480×800 with the pixel density of 233 ppi. It is powered by Snapdragon S4 dual-core processor clocked at 1 GHz. It comes with 8GB internal storage which can be expanded up to 64 GB via microSD card.  It has the similar specifications as the Lumia 520, except Lumia 525 has 1 GB of RAM compared to 512 MB that you get on the former device.
It boasts the same 5 MP camera in the rear, but without a front facing camera or Flash. The device is well powered by 1430 mAh battery, which Nokia claims can last up to about 10 hours of talk-time, and 14 days in standby mode.
From the connectivity standpoint, the device is well equipped with support for WiFi, 3G and Bluetooth.
Nokia Lumia 520 is an entry-level Windows Phone that was launched on April. Despite being the entry-level smartphone, the device received overwhelming reviews and went on to become the most selling Windows Phone 8 device. The only thing it ran short on was the 512 MB of RAM which was incapable of running many high-end games. With Lumia 525, Nokia is addressing that issue.
Nokia has said that the device will come in many colors including, Matte black, Yellow and Red.
Nokia Lumia 525 Availability & Price
Nokia Lumia 525 is concentrated at Africa, Asia-Pacific and Middle East regions. The device will first become available in Singapore on December 14th. Lumia 525 has been priced at 199 USD off-contract. At that price point, the device is again anticipated doing well.