With AT&T and T-Mobile already carrying the new Windows Phone 8 on their carriers, Verizon too seems to have joined the gang. AT&T has two handset namely Nokia Lumia 920 & HTC 8X, whereas T-Mobile is carrying HTC 8X. Now Verizon Wireless joins the party by carrying Nokia Lumia 822 & HTC 8X.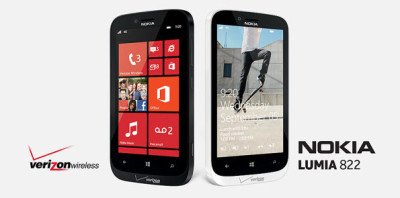 Nokia Lumia 822 is the newest handset from Nokia. Lumia 822 is a beautiful handset with a 4.3 inch display and loads of features combined with Verizon's 4G LTE speed. Lumia 822 is simple in its build and the intuitive Windows Phone 8 start screen along with live tiles allows you to personalize the phone  the way you live. With infinite scrolling start screen of Windows Phone, all your apps and features are right at your fingertips.
Being a Nokia handset means that you get to experience the best of the apps when it comes to navigation and music. Nokia Drive is a navigation software available exclusively on all Nokia devices which provides turn-by-turn spoken navigation. Combine this with augmented reality using the Nokia City Lens you have the ability to point out local attractions within the camera viewfinder.
On the music side, this has got to be the music lover's smartphone. Nokia Music with Mix Radio is an app available exclusively for Nokia device which lets you stream music for free. You can stream and listen to millions of tracks literally with no ads, no log in and no sign up. What's more, you can download hours of music for offline listening too.
On the camera front, Lumia 822 sports an 8MP camera with industry leading optics from Carl Zeiss. You can also capture HD quality video at 1080p. It also sports a front facing camera which is of 1.2MP for video calls. All Nokia devices get Camera Extras, an app which makes your camera do more for you like Smart Shoot & Panorama and this app is available for free on Windows Phone marketplace.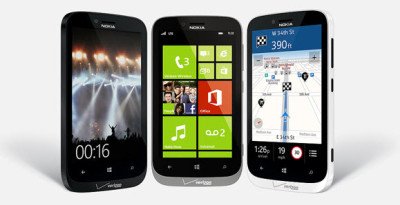 Nokia Lumia 822 Price
At the moment Lumia 822 is available for $99.99 on a two-year contract with Verizon Wireless. It comes with three colors namely White, Black & Gray.
Nokia Lumia 822 Specs:
Dimension: 127.8mm x 68.4mm x 11.2mm
Weight: 142g
Display: 4.3 inch, Capacitive Multipoint Touch, 480×800 pixel resolution, 16.7 million color, ClearBlack AMOLED
Memory: 1024MB internal memory (RAM), 16 GB storage, MicroSD expandable memory up to 64GB
Processor: Snapdragon S4, Dual-core 1.5 GHz
Battery: BP-4W, 1800mAh, 3.7V, removable, up to 486h standby, up to 10.2h talk time, up to 62.1h music playback time
Camera: 8 MP main camera sensor, Carl Zeiss lens, short pulse high power dual LED flash, 1,2 MP front facing camera
Connectors: Micro-USB charging connector, Micro-USB data connector, Micro-USB 2.0
This is for sure a phone to watch out for.

Guest Post By: Lohith GN, Microsoft MVP