Microsoft lately has been busy in changing the name of 'Nokia Lumia' to 'Lumia'. It now will finally re-brand it as Microsoft Lumia. With its acquisition over Nokia last year, the software giant aimed to present a unique brand of handsets in the market, and the re-branding starts with the popular Nokia Lumia Windows Phone.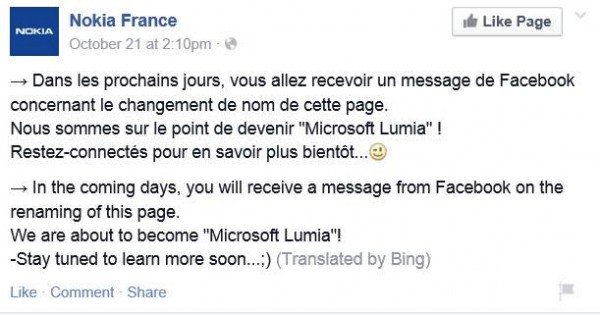 Microsoft Lumia
Late back in September 2013, Microsoft acquired Nokia for $7.2 billion, and announced that the company will be acquiring the entire range of Nokia's devices, services business, award-winning team and license patents. Now, after an year of the procurement, the company is all set for the re-branding exercise.
The re-brading will also change the company's social media accounts name from Nokia Lumia to Microsoft Lumia. The official Facebook page of Nokia France today posted on their timeline about the re-branding.
The page says, "In the coming days, you will receive a message from Facebook on the renaming of this page. We are about to become "Microsoft Lumia"!-Stay tuned to learn more soon…;)
The Finnish handset manufacturer according to the procurement contract, cannot make new phones for many more years and the removing the Nokia name from phone business ratifies the things. However, the Nokia company still exists and is working in mapping services.
Stay tuned to Nokia France Facebook page for more details on the re-branding.
UPDATE: You can read the official announcement here now.