Nokia has officially launched the Nokia Lumia 510 in India, the latest entrant in to the Nokia Lumia family. Having been announced earlier, the Lumia 510 device made its debut in India.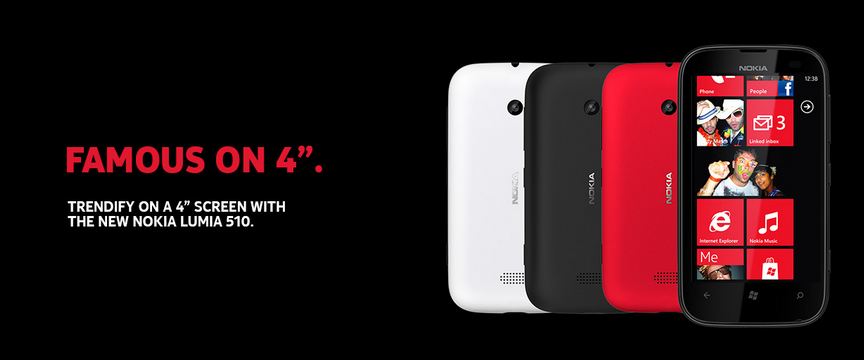 The Nokia Lumia 510 is the latest addition to the family of  Windows Phone devices launched by Nokia in India, namely the Lumia 800, Lumia 710, Lumia 610 and Lumia 900. Seemingly the one with lighter specifications, the Lumia 510 is a budget priced mobile phone targeted towards the 'common user' who would prefer one that helps him/her do basic mobile tasks while running the Windows Phone 7.5 operating system.
In a nutshell, its specifications are:
Windows Phone 7.5 OS
Qualcomm Snapdragon S1 processor
256 MB RAM
4 GB storage space
5 MP camera
4-inch WVGA 800×480
1300 mAh Battery
8.4 hours of talk time
Measuring 120.7 mm in height with a width of 64.9 mm, the Nokia Lumia 510 weighs 129 grams, just a few grams shy from HTC 8X, the latest Windows Phone 8 device manufactured by HTC. However, it scores a huge disadvantage over its competitors as it leaves the user with just 2.88 GB as available storage space which may not be enough to run daily mobile computing tasks, save documents, access media files etc.
With the buzz shifting towards Windows Phone 8 and its subsequent devices, the Nokia Lumia 510 might just be the smartphone launched at the right place in the wrong time.
Nokia Lumia 510 Price in India
Nokia Lumia 510 has been launched with a price tag of INR 10,499 (US $183) in India.
As with all the Lumia phones, like Lumia 920, Lumia 820, Lumia 710 and Lumia 610, Nokia Lumia 510 will also be powered by the Windows Phone operating system. Apart from this, you will of course have access to all the Nokia apps like Nokia Maps. It will be available in red, yellow, cyan, white and black colors.
Head over to its official page for more information.