International explorer Jake Norton has reached India with his dream tool Surface Pro. Norton is on his mission to raise money for 'Water for People' and to draw world's attention to the water issues since 2011.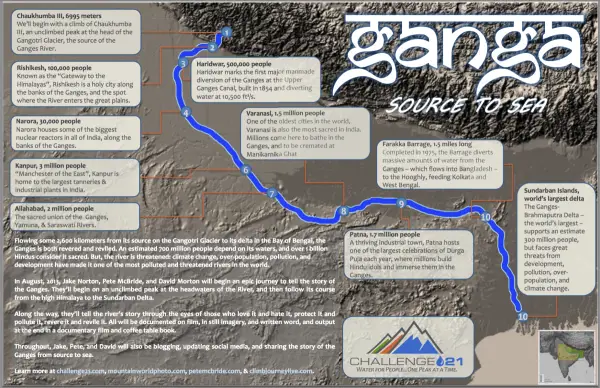 Water for People' is an international, nonprofit humanitarian organization that focuses on long-lasting, safe drinking water resources and improved sanitation.
'River Ganges' or River Ganga, in India is a divine incarnation for Indians, but the severe climatic changes and pollution have brought it under great threat. The glaciers whichfeed River Ganges from North are sadly inclined to the climatic chaos and contamination. Considered as the most divine river, Ganges carries almost 1.5 billion liters of untreated human waste which turns the holy water into a cloying form of alpine ice.
Jake Norton through his trip to India wants to tell the story of world's most venerated river, The Ganges via his Surface Pro. Norton and his team will climb Chaukhamba IV, the mountain massif in the Gangotri Group of the Garhwal Himalaya, India. He will then follow the reverend river Ganges to 1,500 miles to its terminus at Bay of Bengal.
Norton says in his blog post,
"Surface Pro will be our right hand, From downloading and processing images and video in the field to writing posts from our journey, checking email to listening to our favorite music and podcasts, and perhaps even catching a movie or two, the Surface Pro can do it all without breaking my back."
Norton is excited to take his Surface Pro in his expedition along The Ganges.
"I've been on some 50+ expeditions worldwide, But, this time is different, as I've got a new companion in the Surface", says Norton. Surface Pro will be one of the most important accessories in his trip and according to Norton; this amazing trip wouldn't be possible without his dream tool Surface Pro which provides the functionality of the best laptop in the size of a tablet.
This trip would be one of his most adventurous trips, he says. His team will keep updating us through their tweets on this expedition. You can check the tweets from Jake Norton team using #GangaS2S hashtag, reports the Surface blog.
We wish Norton and his team all the best for his adventurous expedition and for the noble cause.