China has imposed a ban on Notepad++, a free-to-use text and source code editor for the Windows operating system. While the exact reason behind these restrictions is not clear, the developer of Notepad++ Don Ho said on Twitter that his app is banned in China "obviously" due to its 'Free Uyghur' and 'Stand With Hong Kong' editions.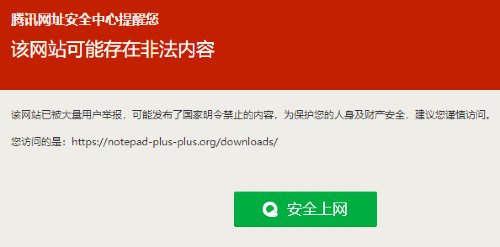 Notepad++ banned in China
According to reports, restrictions on Notepad++ in China are limited to its download page, which allows users to download the 'Stand With Hong Kong' and 'Free Uyghur' editions of Notepad++ software.
According to one report, Chinese web browser applications from companies like Tencent, Alibaba 360 and Sogou warn users that the download page on the Notepad++ website consists of content "prohibited" by Chinese regulators. However, users of these web browsers can continue to access the homepage of the Notepad++ website.
Notepad++'s homepage, on the other hand, remains unblocked through these local browsers. One can still access the full site from Chrome and DuckDuckGo in China.
China may have banned Notepad++ on August 12 as users could no longer access the download page. Meanwhile, Ho does not intend to challenge these restrictions, according to a report.
Last month, Notepad++ released the 'Stand With Hong Kong' edition to oppose the political unrest in the country. The official blog post reads:
"Millions of Hongkongers have been protesting since June 2019 to defend their freedom and autonomy. Now the situation is even worse – on the 30th of June, China passed a so-called "National security law" for Hong Kong to take away the Hong Kong people's freedoms and human rights."

"I reject the idea that our given free speech rights are restrained by an authoritarian country. Notepad++ stands with the people of Hong Kong," Ho said.
Last year, Ho launched the 'Free Uyghur' edition of Notepad++ as part of his protest against China's human rights violations of the Uyghur people.