Windows device owners will now have better access to daily news, as NPR One app is now available for free on Windows PC's, Tablets and Phones as a Universal App. NPR One is a new audio application that takes you to the world of public radio news and stories that has been specially organized for you. No matter where you are, or what time it is, NPR One app service is available with the recent happenings.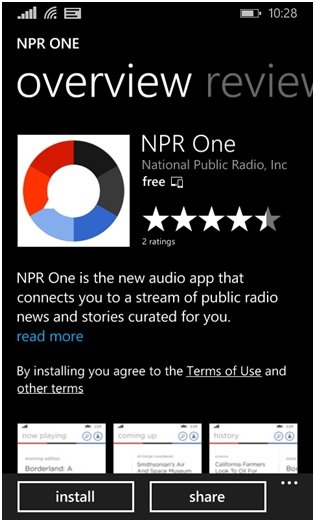 NPR One app for Windows
This is the first time NPR has developed any app for Windows users with the intention to give a new listening experience to all the NPR One app listeners. You will get the entire latest local, national and international news in an organized stream especially customized for you. This app covers news from your local NPR (National Public Radio) station to the international one.
With smooth navigation and search functionality, NPR One is one of the highest rated apps in the Windows market today. One thing that needs to be noted here is that after downloading and installing this app, NPR One will ask you to login from your NPR.org account or from your Microsoft account. As soon as the login is completed this app starts streaming content from your local NPR station.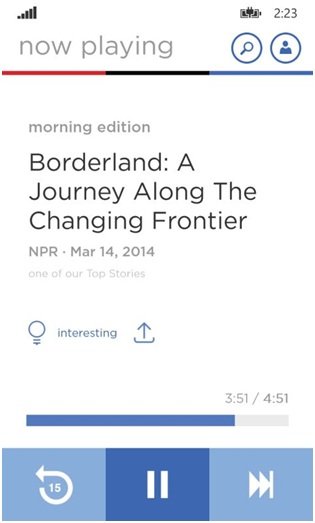 With NPR One app you can search for specific news, your favorite shows, stations and podcasts easily and quickly. It even gives you the ability to see forthcoming show as well. Skip, rewind or pause while listening to your shows are few other functionality that you get with NPR One app. With fast forward button one can quickly switch to another story.
With a simple user interface and easy navigation NPR very simple to use app. By swiping left of the screen, a history of articles that you have listened to will be shown and similar while swiping right on the screen articles that are available for listening will be shown. You can search and share articles as well with NPR One app.
A quote from the official website of NPR says,
"In addition to our excitement in launching on a new handset platform for the first time in over 5 years, we're looking forward to bringing the NPR One experience across more devices and platforms. In doing so, we will be introducing a new NPR One Developer Center where app and device developers can access our API and design documentation."
You can download the app from the Windows and Windows Phone Stores.