NVIDIA Broadcast is a popular streaming software among gamers and YouTube content creators. Recently, NVIDIA introduced a new Eye Contact feature to the NVIDIA Broadcast app. The Eye Contact feature has the option to make it appear like you are looking at the camera, even if you are looking somewhere else on your screen. This is an AI-powered feature that will help video creators and gamers during live streaming.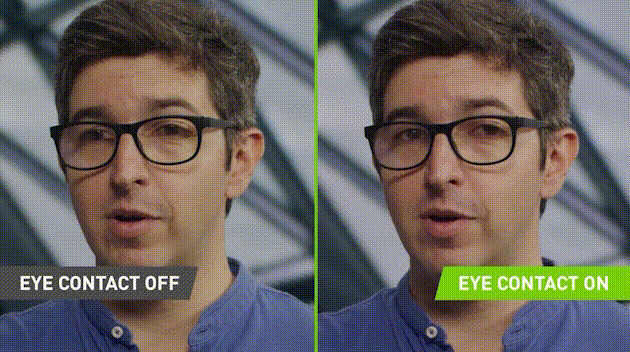 Eye Contact app will help video creators keep eye contact
In an announcement post, the company wrote:
The new Eye Contact effect moves the eyes of the speaker to simulate eye contact with the camera — achieved by estimating and aligning gaze. The eyes retain their natural color and blinks, and there's even a disconnect feature in case you look too far away, to transition smoothly between simulated and real eyes.
This feature will help video content creators in many ways. For example, if you have a script, you have to look at it while making the video. This breaks your eye contact with your audience. When you turn on the Eye Contact feature, you can easily look at your script without letting your audience know about it, as the feature will continuously maintain your eye contact.
Apart from the content creators, this feature is also helpful for office meetings. By turning it on, you can continuously make eye contact with your attendees.
In addition to the Eye Contact feature, NVIDIA has also introduced one more feature, Vignette to the NVIDIA Broadcast app. Using this feature, users can get an AI-simulated bokeh visual on their webcams which improves the virtual backgrounds and visual quality.
The Eye Contact feature is currently in beta because the company wats users to test it on their systems and give their feedback to the NVIDIA team to fix bugs (if any) and improve this feature.
You can download NVIDIA Broadcast today, free for all NVIDIA and GeForce RTX GPU owners.