Office 2013 now has the protection against Macro-based malware attack. Seeing the significant increase in Macro-base infections lately Microsoft has added the macros blocking feature in Office 2013 which blocks Macro virus from loading in the high-risk scenarios. While this feature is already available in Office 2016 for some time, the Office 2013 users are also safe from this tedious infection now, all thanks to Microsoft.
Office 2013 will block Macros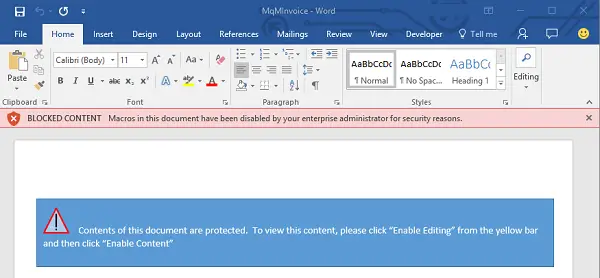 The Company announced the feature via an official blog post. The post says,
"We are pleased to announce that, as of September 2016, this feature is now part of Office 2013 – and it works in the same way as it does in Office 2016".
By configuring this new feature in Office 2013, administrators can now enable it for MS Excel, Word, and PowerPoint coming from the internet.
While Microsoft has always been particular about users' safety and brings a warning message with macros-containing documents, some users get attracted to the luring text and end up with a Macros infections. The Macro-based malware attack is all based on how user deals with the infected document.
Microsoft Office always opens the suspicious documents in a protected view where Macros and any other kind of suspicious malicious virus are disabled and the users are safe from such attacks if they choose to stay in Protected View. But if a user decides to enable macros and edit it, they may land the infuriating macros infection.
The newly added feature in Office 2013 provides a stricter notification against the hazardous macros and allows a user to block easy access to macros in suspicious documents. The suspicious documents may come as an attachment with email, downloaded from some random websites or from the cloud storage services like Dropbox, OneDrive etc.
IT administrators will now be able to block Macro virus using GPEDIT. They can use Group Policy to enable the feature settings or configure it individually under the respective applications.Check out the Group Policy and Office 2013 Administrative Template files here and stay safe.
How to remove macro malware from Office may also interest you.