Office 365 Admin has been one of the most useful apps for folks involved in office admin work. It is very likely that you would be away from your desk when an important work surfaces. It is during such situations that the Office 365 admin app will come to the rescue since it will let the admin manage the account of the entire enterprise through his/her smartphone. The app has been available on Android, Windows and iOS but with a recent update, the offering has been bettered.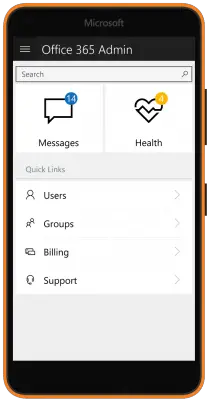 Office 365 Admin app gets an update
The updated Office 365 admin app has been treated to a overhauled design which is expected to make it easier and more efficient for the users. Just like we said earlier, Office 365 admin has been doing well ever since its launch in 2014 and it has also been receiving some rave reviews with a 4+ star rating across all platforms.
Initially launched as a companion app, the Admin 365 has been adding new features which has made it like a complete app that offers most of the features that the actual software on PC would. Statistically speaking, Microsoft has added 40 feature updates since the last 12 months.
The update also brings in feature grouping for the app which would let you group similar features which will eventually be displayed on a single card. Furthermore, new quick links on the dashboard that would let you directly access the settings.
Important issues that need your assistance will be easier to spot with the update, as it would be highlighted in the app. The new updated version will be available for Android and Windows Phone, and will hit iOS in the upcoming weeks. If you are an admin and want to manage Office 365, download the admin app from here.