Office 365 is gradually becoming a complete package for any kind of business. Not only emails, but Office 365 offers several other facilities which ease out many processes involved in a business. Now Office 365 Business Premium, the latest version of Office 365 is offering new business apps. These business apps are designed especially for the small businesses. The new business apps that are introduced by Office 365 Business Premium include Microsoft Connections, Microsoft Listings, and Microsoft Invoicing.
Apart from these, Microsoft is also introducing the Office 365 Business Center and MileIQ. The Office 365 Business Center is a central place where users can manage these business apps and get an end-to-end view of your business. On the other hand, MileIQ is a mileage tracking app that comes as an Office 365 Business Premium subscription benefit.
Here is a glimpse at what these apps are all about.
New business apps in Office 365 Business Premium
1. Microsoft Connections: This app in Office 365 Business Premium is a simple-to-use email marketing service. With this app, small business owners can drive more sales. With this app, users can create professional-looking email marketing campaigns with pre-designed templates for newsletters, announcements or customer referrals. They can also provide simple ways for people to join their mailing list or unsubscribe.
As the mailing list will grow, users can manage their subscribers to create and target specific groups of customers. Microsoft Connections app comes with performance charts, where users can track the open rate, clicks, new sign-ups, new customers, offer redemptions and unsubscribed numbers for each email campaign. It is available on the web, and on mobile apps for iOS and Android.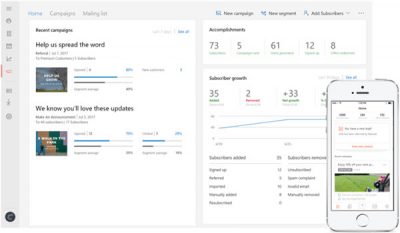 2. Microsoft Listings: This business app in Office 365 Business Premium is an easy way to publish the business information on top sites. With Microsoft Listings, users can publish and manage their business listing on Facebook, Google, Bing, and Yelp. The app comes with a web dashboard that lets users monitor ratings and reviews. As and when the users update their business profile in Microsoft Listings, the changes are automatically populated across Facebook, Google, and Bing.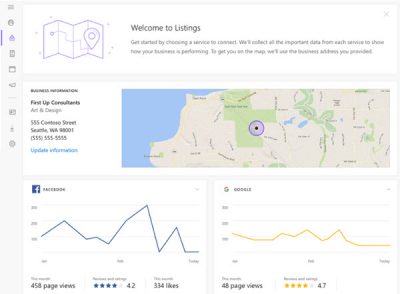 3. Microsoft Invoicing: Invoices are one of the crucial parts of any business. Creating professional and accurate invoices and raising them on time is a big task in itself. Microsoft Invoicing in Office 365 Business Premium will help small business owners to create professional invoices and get paid fast. This app is available on the web, and on mobile apps for iOS and Android.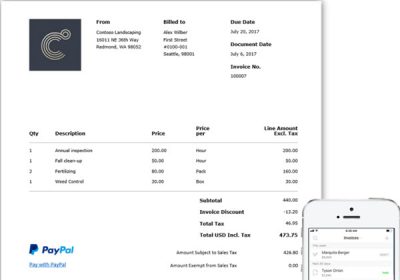 Microsoft Connections, Listings, Invoicing and the Business Center will be rolled out in preview over the next few weeks to Office 365 Business Premium subscribers in U.S., U.K., and Canada.
To know how to subscribe these services and use them, read the complete blog on Office Blogs.